Issue

September 2013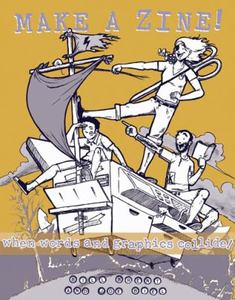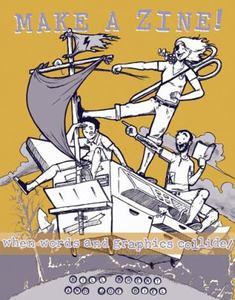 The first zines I bought were punk publications in the late '70s, and in the early '90s I produced my own zine. (Wikipedia definition: 'A zine [zeen; an abbreviation of fanzine, or magazine] is most commonly a small circulation self-published work of original and/or appropriated texts and images usually reproduced via photocopier.') I've read hundreds of zines over the years, and samizdat publishing holds a huge place in my heart. There is an immediacy and humanity about holding a zine in your hands that a website or blog will never achieve.
Make a zine! is as cute as a French comic book. It has a clean, mostly legible design, with patterned margins. The book is liberally illustrated with images by several zine artists (though they are not always clearly credited). This new edition excludes the sections on sex zines and queer zines, a strange act of self-censorship. It is apparently to appeal to reviewers on Amazon, and to ensure the book is accessible to all ages. Co-author Bill Brent (who sadly died last year) published queer zines in San Francisco from 1993. The other author, Joe Biel, has spent 20 years reading, writing and publishing zines.
Initially, I wondered why anyone needs to read a book about how to make a zine, but dipping in to the book changed my mind.
Every aspect of zine making is covered in a simple and thorough way. The practical sections on 'Organization', 'Sales' and 'Inspiration and Creativity' were all good. The section that really stood out for me was 'DIY Comix' by long-term zinester, Fly. This covers everything from story ideas and scripting through to character development and panel layout.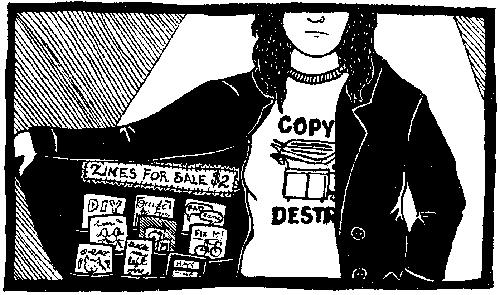 Written from a US perspective, Make a zine! is still relevant to zinesters in other parts of the world in terms of its practical advice. The resource sections at the end are of less value to anyone outside the States, and may already be out of date. The internet does  have some advantages!
In some ways, Make a zine! could be seen as a historical record, documenting every aspect of zine-making. In the current explosion of interest in zines, if anyone needs some wise and friendly advice to help them create their first zine, this is the perfect guide.