Issue

October - November 2023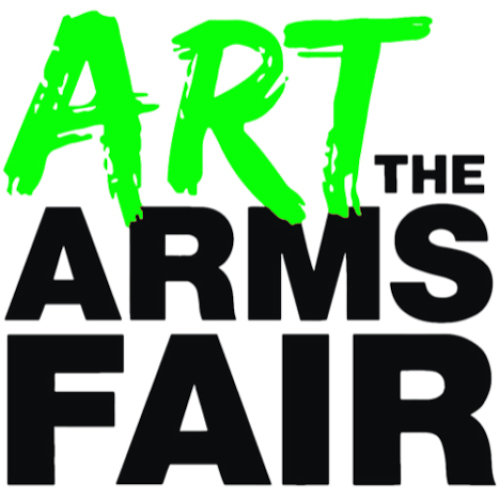 At Gallery 46, a carefully renovated Georgian house in Whitechapel, curator Zayna Al-Saleh has gathered big names in art activism such as Vivienne Westwood, Gavin Turk, Adam Broomberg and Jeremy Deller.
Far from street protest, where Art the Arms Fair has its roots, some pieces are expected to fetch tens of thousands of pounds at auction.
Just as the DSEI arms fair four miles away offers luxurious hospitality to its corporate and military clients, this exhibition comments, with irony or not, on the art world, a luxury business in itself.
Among the subvertising and illustrative work are two pieces, however, that use technology to take direct action.
Hiding in Plain Sight is a computer game in which Jed Maiden, in collaboration with dED_ucation, proposes a 'forensic architecture', a way for players to investigate the arms companies linked to the physical teaching spaces of higher education.
In the video, Counter Surveillance H2, a single olive tree, against a sound track of birdsong, is overlaid with disappearing text.
The work is the initiative of Artists + Allies x Hebron in which the same technology used by Israelis to spy on Palestinians is used to protect the ancient olive trees in the West Bank. The livestream can be watched by anyone in the world.
In Bang, 2023, Elizabeth Eade combines Second World War bullets, crystals, 24k gold and red velvet.
In her words, she 'comments on the links between luxury culture, capitalism and war.' For me, it was a reminder of how ammunition is presented in the arms fair itself, as something to be consumed but with a veil over its true purpose. against Israeli occupation.