Issue

October - November 2023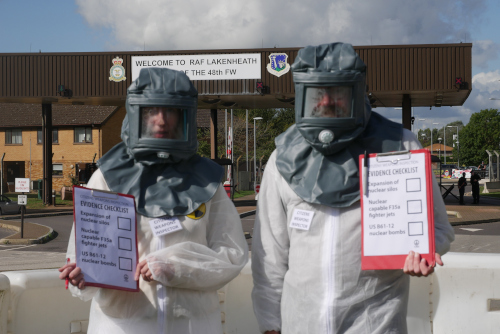 A Citizens Weapons Inspection (CWI) team from the Campaign for Nuclear Disarmament (CND) gathered outside USAF Lakenheath on 23 September, with the aim of searching the base for nuclear weapons.
This followed growing evidence that the US air force is priming Lakenheath for the deployment of the new B61-12 guided nuclear bomb as part of a mass upgrade of US nuclear infrastructure in Europe.
The inspection was part of a nationwide day of action against US nuclear weapons in Britain. Despite CND writing in advance to the base commander, access was refused and the team were prevented from handing in another letter to the base commander.
Speaking outside, CND chair Tom Unterrainer condemned the lack of transparency and democratic oversight, as well as the escalatory nature of such a deployment. 'By refusing access to our CWI team, the UK authorities are happily going along with US foreign policy,' Unterrainer said. 'The majority of the public don't want these US nuclear weapons here, so where is the vote in Parliament? Where is the democratic process?'