Issue

October - November 2023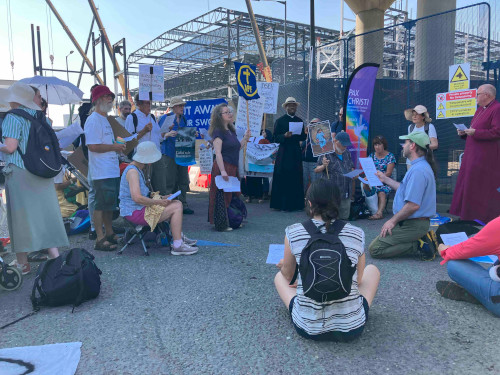 Nine peace activists were arrested on 'No Faith in War Day', on 7 September, in front of the the ExCeL Centre in East London, where preparations were being made for the Defence & Security Equipment International (DSEI) arms exhibition and conference, Europe's biggest arms fair.
Earlier, several hundred people had attended a Quaker meeting for worship, followed by an Anglican service and, later, a Pax Christi liturgy of resistance, at one of the gates to the ExCeL Centre. People sat down for several hours in front of the gates, blocking lorries trying to deliver equipment for DSEI.
Eventually, police imposed conditions on the protest and made arrests when people disobeyed the conditions, mostly of Quakers. Three or four other people were arrested at other times.
This year, some 1,600 manufacturers and arms dealers exhibited at DSEI. Eight countries from the foreign office's list of human rights priority countries sent delegations: Bangladesh, Colombia, Egypt, Iraq, Pakistan, Saudi Arabia, Turkmenistan and Uzbekistan.
Apart from No Faith in War Day, other events included: a Migrant Justice Day, Policing and Prisons Day, Climate Day, a Festival of Resistance (including a Critical Mass bike ride), a Palestine Solidarity Campaign vigil, a dED_ucation teach-in, and a demo at the department of business and trade organised by Women's International League for Peace and Freedom (WILPF) and Kingston Peace Council.
There were also walks to the fair, including a six-day peace pilgrimage from Oxford to the ExCeL Centre and a Pax Christi walk on No Faith in War Day. Quaker Roots organised a tour of London arms companies on 11 September.
The Mad Hatters affinity group organised two slow, leafleting walks from Stratford station to ExCeL: one on 6 September (co-organised by WILPF) and one on 12 September, the first day of DSEI. At the end, wreaths were cast into the dock in memory of all victims of the arms trade.
These walks were part of a months-long 'Newham Outreach' campaign, organised with local activists, which included thousands of leaflets being given out at local fairs and events.
Overambitious?
After the Campaign Against Arms Trade stopped taking a leading role in organising the protests against DSEI in 2019 (they switched to supporting protests at arms fairs across the UK), the 'Stop the Arms Fair' (STAF) coalition took full responsibility for the 2021 and 2023 protests.
In 2021, STAF was moderately successful in encouraging groups of protesters to take responsibility for organising actions on different days in the set-up week and during the arms fair itself. However, numbers were noticeably down on 2019 and there was little attempt at nonviolent direct action (NVDA). This might have been due to COVID-19.
In 2023, there was even less success in getting groups to cover all the days and it seemed to me numbers taking part were down even on 2021.
The problem with both years, I think, was over-ambition, given that not enough people got involved in STAF.
Most of its monthly meetings were online and there seemed to be an ever-changing cast of fewer and fewer people.
STAF did set up working-groups for dealing with different aspects of the protests, but some seem to have met sporadically if at all.