Issue

February - March 2023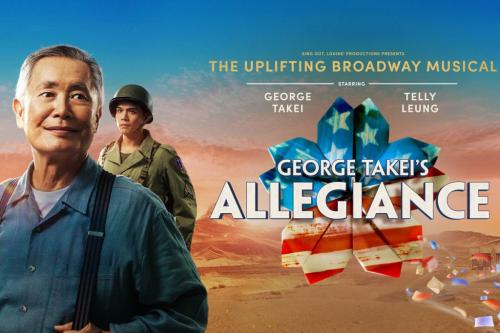 In 1942 the American government forcibly relocated and imprisoned at least 125,284 of its own citizens, purely on the basis that they were Japanese-Americans. Among them was five year old George Takei and his family. Known to the world as Star Trek's original Mr Sulu, and in recent years as an LGBTQ+ activist who has also brought joy to the internet with his catchphrase 'Oh Myyyy!', George's boyhood experiences inspired Allegiance.
The story follows the Kimura family as they are forced from their California farm to the Heart's Mountain concentration camp. We are shown the awful conditions in the camp, the degrading treatment prisoners experienced at the hands of their countrymen, and the human cost of this dark page of 20th century American history. 
Allegiance is part musical, part history lesson. Like British concentration camps during the Boer War, no one really talks about the Japanese-American "internment centres", or the segregated Japanese-American 442nd Infantry and their experiences in Europe, or the draft resistance that went on in the prison camps. Allegiance covers it all. 
One of the most emotionally difficult parts of the history around any forced relocation is the effect it has on the very old, and the very young. Allegiance shows the audience both, with grace and sensitivity. An unnamed character, played by ensemble member Hana Ichijo, loses her infant son to a fever, partly because of a lack of medicine available to prisoners. The child's funeral is silent, but devastating. 
Takei himself plays both the elderly Sammy Kimura, and Sammy's grandfather Ojii-Chan, who also loses his life at Heart's Mountain. Ojii-Chan dies in his garden, after being told upon arrival that he will never get anything to grow in the dust. It is a small victory, but it is a victory nonetheless.
Takei does not, however, steal the show. He appears completely content to leave that to Telly Leung, playing the young Sammy, and Aynrand Ferrer who plays Sammy's sister Kei. All gave performances that made me forget I was watching a play - I became completely immersed in the story. Leung and Ferrer's voices are particularly incredible and fill the intimate Charing Cross Theatre with raw emotion. I am not ashamed to admit the final, beautiful, scene brought me to tears.
Allegiance is moving, shocking, educational and at times, surprisingly funny. I bought the DVD because I will enjoy it again and again.