Issue

February - March 2023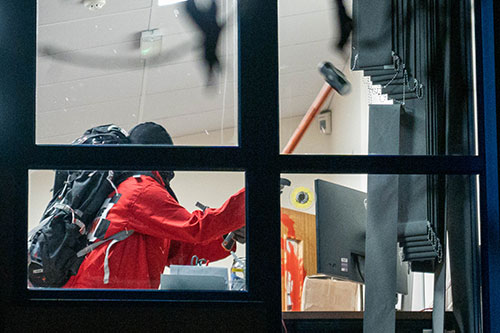 Palestine Action (PA) has kept up a hectic pace recently in terms of court dates, and has also carried on its campaign of property damage against British arms firms supplying the Israeli Defence Force (IDF).
PA, founded in July 2020, has branched out from its focus on Elbit UK, the British subsidiary of Israel's largest weapons company, Elbit Systems, which supplies military drones to the IDF for use against Palestinians.
For example, on 19 January campaigners in Scotland carried out the latest PA direct action against the arms company Leonardo UK. After entering a Leonardo factory in Edinburgh, they dismantled equipment, painted walls inside and outside the building red, and started a rooftop occupation.
Leonardo supplies Israel with Aermacchi M-346 trainer/combat jets. It also provides laser-targeting systems for attack helicopters and fighter jets used by the IDF against Gaza.
A month earlier, on 9 December, at a US-owned factory, Teledyne Labtech in Wales, four PA activists allegedly dismantled £1mn-worth of military equipment due to be exported to Israel.
The #Teledyne4 were charged with criminal damage and remanded in custody until trial. They were still in prison at the time of writing, six weeks later.
Three acquitted
Two other PA activists had their charges dismissed on 9 January. They were among five defendants being prosecuted for carrying items to be used for criminal damage. The five were arrested last year near UAV Tactical Systems, an Elbit-owned factory in Leicester which has been repeatedly targeted by PA.
When the #Leicester5 trial came to an end on 12 January, another activist was found 'not guilty' and the remaining two were found guilty and sentenced to community service.
On 13 January, four PA activists received conditional discharges at Highbury magistrates' court after being convicted of criminal damage against JLL, Elbit UK's landlords. (A 'conditional discharge' means there is no punishment – unless a second offence is committed within a certain period.)
---
PA co-founders Huda Ammori and Richard Barnard told the Investment Monitor website last September: 'we are witnessing a sea change in how people protest in this country... we are in one of those moments of history in which people have reached their limit of orderly but ineffective protest.'