Issue

February - March 2023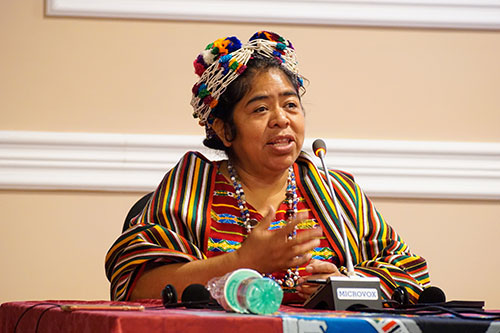 In 2016, I met many inspiring peacemakers in Rome when Pax Christi International launched the Catholic Nonviolence Initiative (see PN 2622 – 2623). It set in motion a process to engage with the Vatican, and the global Catholic family, in the practice of nonviolence as a way of life, a spirituality and a method for change. In December 2022, another encounter took place with 75 participants from 28 nations. It was entitled: 'Pope Francis, Nonviolence and the Fullness of Pacem in Terris'.
While gathering together was a key purpose, there were other expectations too. We were meeting to acknowledge how much the current pope has done through his words, actions and teachings on nonviolence.
We were also meeting to follow the thread back to 1963 and a ground-breaking teaching of another pope, John XVIII. Pacem in Terris ('Peace on Earth') addressed the global arms race, the impact of the Cold War, post-colonial challenges, the role of international institutions, and more.
We wanted to draw from this thread to see how we are embedding nonviolent peacemaking into the life of the church today.
We knew that for many European participants the war in Ukraine-Russia would be a preoccupation. Yet the majority of our number came from the Global South. Pope Francis has said that, in the Global South, 'we see world war fought piecemeal'.
Kai Brand Jacobsen from the Romanian Peace Institute (PATRIR) reminded us that the Ukraine War is impacting the whole world, escalating military budgets, poverty and war.
Burnt water
Stories and personal testimonies give us insights into the grip that violence has on communities. Our group had experience of war, revolution, human trafficking, oppression by dictators, the destruction of the natural environment, racism and sexism. We learnt how individuals and their communities hone their skills, tools and traditions to transform and prevent violence and war.
Yolanda Flores Montoro, an Aymara woman from Peru, and Maudilia Lopez, an Indigenous woman from Ixtahuacán, Guatemala, forcefully articulated the destructive impact extractive industries have had on their communities. They also called the church to account for the ways in which it has robbed indigenous peoples of their cultural identities.
Yolanda works with DHUMA, a human rights and environmental organisation. She spoke of the 'burnt water', contaminated by mining, that has slowly poisoned communities.
DHUMA (Derechos Humanos y Medio Ambiente; Human Rights and Environment) has trained local people in their rights and facilitated legal actions against companies. It has fought for compensation rights and advocated for those arrested and imprisoned during protests.
Yolanda spoke of the power of international solidarity, which can open doors to the places her community finds it hard to enter.
A shattered jug
Maudilia, who is a religious sister, works to resist the devastation a Canadian mining company imposes on her community.
During a time of prayer, which she led, Maudilia dropped a clay jug onto the floor. Loudly, it shattered to pieces.
Maudilia offered us this shattering as a symbol of the harm done to indigenous people by the Catholic church and by multinational corporations; it illustrated that human life and the earth are all one. This experience offered us a gut-level sense of the two sides of violence – to the person and to the earth.
A panel discussion on war came to a consensus that, for Ukraine, the damage and harm being inflicted on the peoples of Ukraine and Russia is evidence that no war is ever just. This places responsibility on peacemakers and faith communities to protect people, to resist the roots of injustice and conflict with nonviolent means, and to foster receptivity and openness for nonviolence within communities.
We have seen this in courageous actions of peacemakers in Ukraine and Russia.
Kai, reminding us of the need to go from story to strategic planning, introduced the '14 Pillars of a Church of Peace', which include peace education, healing of trauma, 'listening' and early warning systems, peace envoys who offer mediation and more.
Pope Francis delivering a teaching on nonviolence would be the icing on the cake.
However, in our common desire to work for justice, to care for the earth and to end violence and war, we realised that we, 'the people', are already on the right track, with much to offer and learn from each other.
The better resourced we are, the better we learn to communicate about nonviolence, the better we co-operate in our work, the closer we will be to the fullness of Pacem in Terris, peace on earth.