Issue

October - November 2022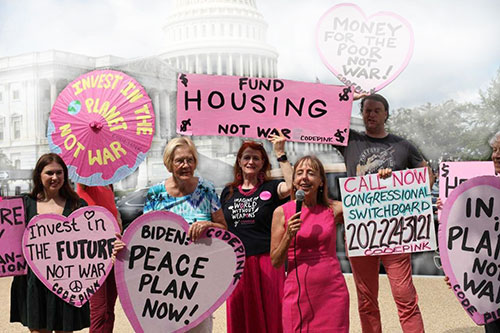 Despite his warlike words, and the enormous brutality of his invasion forces, Russian president Vladimir Putin has also signalled that he wants negotiations with Ukraine to end the war.
Britain and the US must end their anti-negotiations position (see PN 2661).
Putin put pro-negotiations language into both his 21 and 30 September speeches, which included nuclear threats, the mobilisation of 300,000 Russian reservists and the annexation of four Ukrainian regions.
Russia specialist Anatol Lieven was one of the few to point out: 'The fact that Putin explicitly and favorably cited Ukraine's peace proposal in his speech announcing Russia's partial mobilization may offer a glimmer of hope for diplomacy.'
In his 21 September speech, Putin said that 'after the Istanbul talks, Kiev representatives voiced quite a positive response to our proposals', but 'a peaceful settlement obviously did not suit the West, which is why, after certain compromises were coordinated, Kiev was actually ordered to wreck all these agreements.'
As PN readers will know, Ukraine and Russia came very close to an agreement this spring in Istanbul, Turkey (see pp14 – 15 and PN 2661).
On 30 September, Putin said: 'We call on the Kiev regime to immediately cease fire and all hostilities; to end the war it unleashed back in 2014 and return to the negotiating table. We are ready for this, as we have said more than once.'
Barrier to progress
However, there is a contradiction between the two speeches. On 21 September, Putin praised the Istanbul deal-that-nearly-was between Russia and Ukraine, in which the Donbass region would remain part of Ukraine, but with more autonomy in a federal system (a bit like the US).
On 30 September, Putin declared that four Donbass regions were now part of Russia and that the people living there will be Russian citizens 'forever'.
The illegal annexation of 15 percent of Ukraine makes peace negotiations almost impossible, unless Putin is willing to compromise – perhaps returning territory but allowing Donbass residents dual citizenship?
Anatol Lieven warns that, unless there is compromise, the best that we might be able to hope for might be a semi-frozen conflict: 'a situation like that of Kashmir over the past 75 years: unstable ceasefires punctuated by armed clashes, terrorist attacks, and occasional full-scale war.'
Negotiations might produce something better than another Kashmir. Not negotiating could lead to complete disaster.