Issue

October - November 2022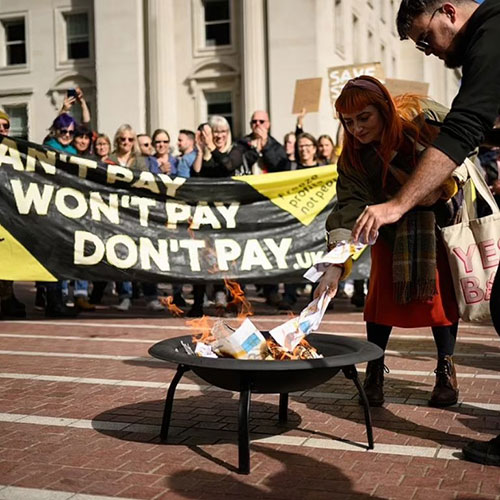 1 October saw huge protests against the cost of living crisis: national strikes by three rail unions – and by postal workers – involving tens of thousands; the blocking of four bridges in London by the Just Stop Oil climate and social justice coalition; and rallies and marches in 50 towns and cities across the UK by the new union-backed social justice coalition Enough is Enough.
1 October also saw the burning of energy bills in 20 towns and cities by local Don't Pay groups. (Don't Pay say they have 400 local organisers signed up.)
If a million people pledge that they will withhold payment of their energy bills, the Don't Pay campaign will trigger mass cancellation of people's direct debits and non-payment ('for a short or long time'). Around 200,000 people have signed up.
The aim is to force a reduction in energy costs back to pre-April rates, to end enforcement of pre-payment meters (forced on poorer people, even though they're more expensive) and an 'emergency social tariff', meaning even lower prices for low-income families.
It's possible that many Don't Pay strikers may cancel their direct debits only to make a payment within the required 28 days, avoiding any legal problems or damage to their credit scores.
Don't Pay say: 'It would still devastate a company's cashflow if thousands of people cancelled their direct debits and paid a few weeks later, with no consequences to the strikers.'
Mass non-payment (or delayed payment) might bring down even more energy retailers, putting enormous pressure on the government – while, unfortunately, not directly affecting energy producers such as BP and Shell.