Issue

August - September 2021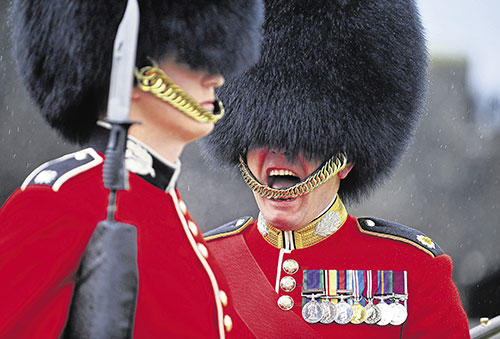 On 12 June, the body of a young man was found on the railway tracks near Lympstone in Devon.
Connor Clark was a recruit in the royal marines, just three weeks into his 32-week commando training course.
Tracy Clark, thought to be his mother, wrote on Facebook: 'Yesterday this beautiful son, brother and friend Connor Clark tragically took his own life whilst following his dream during Royal Marines commando training.'
The navy have launched an investigation into bullying.
Friends told the press that Connor Clark had been targeted by a 'sadistic corporal' at the Lympstone marines training camp: 'The corporal is a sadistic bully. He's just been screaming at Connor, putting him in press-ups for 45 minutes.'
Connor Clark died just days after a new development in the case of the Deepcut Four, now possibly the Deepcut Five.
For over 20 years, there has been a great deal of public concern about the deaths of four young recruits between 1995 and 2002 at the Deepcut army base in Surrey.
The deaths of Sean Benton (20), Cheryl James (18), Geoff Gray (17) and James Collinson (17) all involved gunshot wounds.
Three of the Deepcut Four deaths have been ruled suicides by coroners, one has an open verdict. Not all the families involved agree with these verdicts.
"The army had kept his death secret for 20 years."
On 10 June, it became known that a fifth Deepcut recruit, Anthony Bartlett, had died during the same period, in July 2001. The army had kept his death secret for 20 years.
Among those who were shocked was a police officer, detective chief inspector Colin Sutton, who investigated the last two of the Deepcut Four deaths (in September 2001 and March 2002).
Sutton was stunned that he had not been told about the death of Anthony Bartlett just months earlier. (Bartlett's overdose was ruled an accidental death by the coroner.)
Bullying
A government review in 2006 criticised army training at Deepcut for the 'harassment, discrimination and oppressive behaviour' experienced by some trainees.
In 2021, the Armed Forces Continuous Attitude Survey highlighted that 11 percent of British armed forces personnel had reported being subjected to bullying, harassment or discrimination in the previous 12 months, a figure that had remained unchanged since 2018, when it was 12 percent. (The survey does not include people on training courses.)
The most recent annual report for the service complaints ombudsman for the armed forces (2020) found that 27 percent of service complaints concerned 'bullying, harassment or discrimination'.
The ombudsman, Mariette Hughes, referred to the Continuous Attitude Survey finding that '12% of Service personnel experienced bullying, harassment or discrimination, but only 10% of those raised a complaint in writing.'
Hughes noted in her 2020 report: 'The main reason for not raising a complaint was that complainants felt that nothing would be done if a complaint was made (60%).'
The most recent army sexual harassment survey, in 2018, found that 70 percent of victims were dissatisfied with the outcome of the investigation and 75 percent said they had experienced negative consequences as a result of making a complaint.
This resulted in 93 percent of complainants considering leaving the army and 91 percent describing themselves as feeling humiliated.
Zeroing in
Since Britain's unpopular military involvement in Iraq and Afghanistan there has been a concerted effort by both the UK government and the armed forces to promote the military to ensure it has sufficient support to go to war.
This effort has included targeting school students and providing them with a biased and sanitised view of life in our armed forces.
The UK remains the only country in Europe that still recruits 16-year-olds to its armed forces.
The military do not just visit schools to promote an armed forces career to young people.
A Guardian newspaper investigation in 2018 found that the ministry of defence (MoD) paid for advertisements on Facebook that deliberately targeted vulnerable 16-year-olds waiting for their GCSE results.
Just before GCSE results day in August 2015, for example, a Facebook post told British 16-year-olds: 'No matter what your results will be, you can still improve yourself in the army.'
"91 percent of complainants described themselves as feeling humiliated."
Alongside was an image of two soldiers on a quad bike riding through surf on a shingle beach.
In August 2016, the army told the same age group: 'Whatever happens on results day, we'll help you learn, earn and stand on your own two feet.'
The accompanying photo was of an open-topped army vehicle during a beautiful sunset or sunrise.
In 2019, a report by the Child Rights International Network accused the army of targeting the poorest towns and cities for recruitment.
The key target group was 16–24-year-olds in the lowest three social and economic groups.
Suicide, PTSD....
These young people are not told that personnel in the British armed forces experience 'an unacceptable level of inappropriate behaviour' – meaning 'bullying, harassment including sexual harassment, and discrimination'.
Young people are also not told that the British military has 'a sub-optimal system for dealing with [inappropriate behaviour] when it does occur.'
Those are two of the conclusions of a 2019 MoD Report on Inappropriate Behaviours.
Recent research* has highlighted the damaging impact of entering the army on both physical and mental health of young recruits, and the increased risk of suicide among male service personnel under 25 years of age.
The rate of suicide in this group was found to be two to three times higher than in the same age-gender group in the general population.
The suicide risk was highest among men who had shorter service lengths in the army, who'd served in the lower ranks, and in the first two years after they left the military.
Male suicide rates in the regular armed forces have been increasing in the last five years, according to the MoD, after falling steadily since the 1990s.
The MoD's 2021 study states that, in the last five years, the risk of developing serious mental health problems as a result of being in the armed forces has increased.
The King's Centre for Military Health Research pointed out in 2018 that the rate of post-traumatic stress disorder (PTSD) in veterans and serving personnel (in the regular armed forces) had increased from 4 percent in 2006 to 6 percent in 2016.
This compared to a rate of 4.4 percent in the general population.
Parents, teachers and, most importantly, students need to be aware of the problems many recruits face to ensure they receive a balanced view of military life.
In addition, if the UK government and the MoD are serious about addressing the significant issues of bullying and harassment and reducing the rates of suicide among both service personnel and veterans, they could start by ensuring no one under 18 years of age is recruited to the armed forces.