Issue

August - September 2021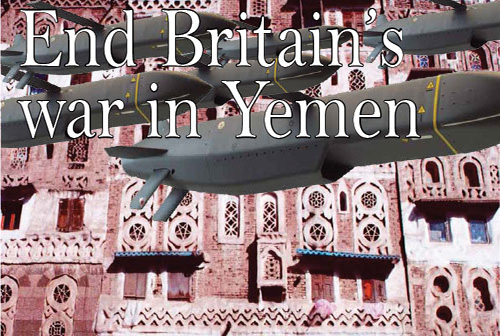 Yemen continues to suffer the world's worst humanitarian crisis, according to the UN, with half the population going hungry and hundreds of thousands of people on the brink of famine. 
A dramatic fall in the value of Yemen's currency, the riyal, has only worsened the situation, while peace negotiations drag on without an end in sight.
Britain's response to Yemen's suffering has been to worsen the crisis, not just by supporting but by joining in Saudi Arabia's war in Yemen.
In early July, we learned that there are British soldiers actually in Yemen providing training and logistical support to Saudi and Saudi-backed forces.
We learned last November that other British soldiers are in Saudi Arabia to provide air defence for Saudi oil fields against missile attacks from Yemen.
(This is in addition to the RAF officers who serve in Saudi air operations centres 'observing' Saudi-led air operations in Yemen.)
In mid-July, Campaign Against Arms Trade (CAAT) revealed that British military manufacturers have armed Saudi Arabia to the tune of £20bn since its campaign in Yemen began in 2015.
This isn't just Saudi Arabia's war in Yemen: it's Britain's war.
The group of 20–30 British soldiers in Yemen are based at Al-Ghaydah airport in Mahra province, eastern Yemen. That's according to two local men spoken to by Declassified UK, the investigative news website.
Local journalist Naser Hakem Abdullah Awidh saw the British troops while he was embedded with Saudi forces at the airport. A tribal sheikh, Hameed Zaabnoot, passed on information from airport staff.
It was back in March that the former deputy governor of Mahra province, sheikh Ali Salem Al-Huraizi, criticised the presence of US and UK troops at Al-Ghaydah airport – and called for all foreign forces to leave.
Hidden in the open
Meanwhile, the royal artillery air defence unit in Saudi Arabia has cost the British taxpayer £2.2m since February 2020, the government admitted on 5 July. This was in answer to a written parliamentary question from Scottish MP Kenny MacAskill of the Alba party.
Declassified UK says that UK personnel are installed across 15 key sites in Saudi Arabia.
On the arms trade front, CAAT point out that the £20bn of arms sales to Saudi Arabia is nearly three times the official figure published by the department for international trade for the same time period.
The true total has been hidden because exporters have used 'open licences' for most of the military hardware and services sold to Saudi Arabia. These 'open' licences hide the truth because they allow an unlimited quantity of arms to be exported over a pre-set period, or even indefinitely – without the total volume of exports or value of sales having to be reported.
CAAT researchers analysed the annual reports of the UK's biggest arms company, BAE Systems. They discovered an extra £17.5bn worth of unreported equipment and services sales to Saudi Arabia since 2015, sold using open licences.
Peace?
While there were hopeful signs at the end of June, at the time of writing there doesn't seem to be much chance of a breakthrough in peace negotiations between the Saudi-backed government of Yemen and the Houthi rebels aligned with Iran.
(Actually, there were signs of increasing conflict between the Saudi-backed government and their supposed allies, the Southern Transitional Council.)
As many people have pointed out, the two sides can't even reach agreement on preventing leaks from, or an explosion onboard, a giant oil tanker rusting five miles off the coast of Yemen. The FSO Safer, holding over a million barrels of oil, could become the biggest human-caused oil-related disaster in history.