Issue

June - July 2019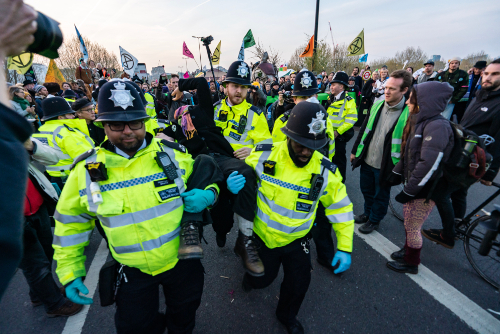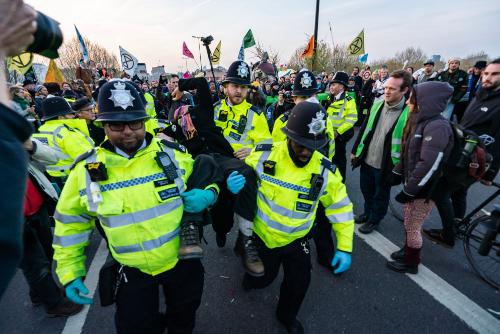 An arrest on the first day of XR's International Rebellion, 15 April, on Waterloo Bridge, London. Photo: Vladimir Morozov / Extinction rebellion
Despite there being over 1,000 arrests during 11 days of Extinction Rebellion (XR) climate actions which shut down much of central London in April, only 74 people seem to have been charged. The police are now threatening all the arrested with prosecutions....
On 23 April, Elliott Cuciurean (20) became the first person to be convicted from the April actions.
Elliott pleaded guilty to a public order offence and was given a six-month conditional discharge. He was also ordered to pay £85 in legal costs and a £20 victim surcharge. He'd been ordered to confine his demonstrating to a special Marble Arch protest zone, but continued protesting outside the zone (he was arrested on 21 April).
Three other XR activists who appeared in Westminster magistrates' court on the same day as Elliott have trial dates set for 28 June. Saul Kenrick (22), Tristan Strange (37) and Godfrey Whitehouse (70) will appear before Hendon magistrates court.
On 16 May, three people appeared at Blackfriars Crown Court charged with obstructing a railway through gluing themselves to DLR trains. They were bailed with no date set for trial.
Cathy Eastburn (51), Mark Ovland (35) and Luke Watson (29) were charged with obstructing trains or carriages on the railway by an unlawful act, contrary to section 36 of the Malicious Damage Act 1861. The maximum sentence is two years in prison.
The three were held on remand (in prison) from 17 April until 25 April (Cathy) and 1 May (Mark and Luke).
Cases have been continuing from the November XR actions in London.
On 5 April, five people were on trial at the City of London magistrates' court for criminal damage (they'd chalked on the Department for Environment, Food and Rural Affairs on 14 November). Christopher Allport (29), Liz Beck (56), Lizzy Haughton (23), Laura Hughes (37) and Rosie Lancaster (34) had their cases adjourned till 5 August for the high court to adjudicate on an alleged abuse of process in the case.
On 9 May, co-founder of Extinction Rebellion, Roger Hallam, and another activist, David Durant, were acquitted of criminal damage (worth £7,000) by a jury at Southwark crown court. They had sprayed 'divest from oil and gas' on the wall of King's College London on 1 February in protest at the college's fossil fuel investments.
The pair represented themselves, arguing that their actions were proportionate, given the climate crisis. The jury's verdict was reached despite the judge having told the jury that the issue of climate change was 'irrelevant' to the case.