Issue

May 2013
Street art, corner of Saxon Street and Norman Road,
St Leonards-on-Sea, East Sussex. Photo: Milan Rai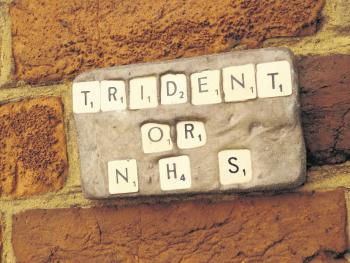 This month, building on a wave of peace activism, a three-month peace pilgrimage will begin on the Scottish island of Iona, travelling across and then down the east coast of Scotland towards London. The message of the Pilgrimage for Peace and Economic Justice is the same as that of a series of events last month.
In April, the Scrap Trident coalition held a major demonstration in Glasgow and blockaded the Faslane nuclear missile submarine base (see p5); CND vice-president Bruce Kent toured the country on a 23-stop 'Scrap Trident' speaking tour; the Campaign for Nuclear Disarmament (CND) blockaded Britain's nuclear bomb factory at Aldermaston, Berkshire (see p3); and the Campaign Against Arms Trade, Pax Christi, War on Want, CND and others marked the Global Day of Action Against Military Spending (GDAMS UK) in London and around the country (also on p3).
All these protests had a common theme: a call for military spending to be re-directed to meeting human needs.
The primary aim of the 2013 Peace Pilgrimage is to 'focus national public attention on the government's proposal to spend up to £100 billion renewing the Trident nuclear missile system, while continuing to slash NHS, education and social welfare budgets, including vital financial support for some of our most vulnerable and disadvantaged people and communities across the UK.'
The GDAMS UK coalition notes: 'Every year a whopping £700 million of public money is spent supporting arms exports, often to countries in conflict and human rights abusers. This subsidy is handed to a deadly sector which in the UK accounts for less than 55,000 jobs. Meanwhile, at least 56,000 jobs in the NHS have been cut since this government came to power.'
The Scrap Trident weekend of action in Scotland was based on this call: 'With spending on health, education, pensions and disability benefits being slashed, the government is replacing Trident at a cost of £100 billion. We want Scotland and the world free of immoral nuclear weapons and call for Trident to be scrapped and human needs funded.
The call and the demonstrations were supported by a wide range of groups and individuals including the Scottish Trade Union Council and the first minister of Scotland, Alex Salmond MSP.
120,000 nurses
According to the Campaign for Nuclear Disarmament (CND), just the £25bn cost of constructing replacement nuclear submarines as part of a new nuclear weapons system could pay for: the training of 120,000 nurses or 60,000 teachers; a £2,500 bonus for every pensioner or free public transportation for generations.
On 7 April, Liberal Democrat transport minister Norman Baker MP described the like-for-like replacement of the Trident nuclear weapons system as 'a £100,000,000,000 vanity project'.
On 21 April, former Liberal Democrat armed forces minister Nick Harvey said that like-for-like replacement was based on 'outdated and ludicrous' ideas about deterrence. Trident is, he said, a 'fantastically expensive insurance policy' that 'no longer makes sense'.