Issue

October 2012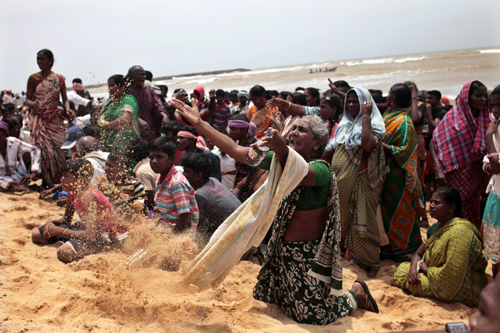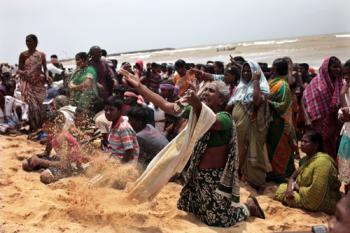 On 10 September, local fisherman Anthony John, 44, was shot dead by Indian police while taking part in a blockade protesting against the completion of a nuclear power plant in Kudankulam in the Indian state of Tamil Nadu.

Two 1GW reactors have been built on the site and were being loaded with uranium fuel as PN went to press: the authorities plan to build a further four 1GW reactors on the site.

The protests were organised by the People's Movement Against Nuclear Energy, which argues that the plant is undemocratic, unsafe, and damaging for the local fishing industry (because of the dumping of coolant water and low-grade waste in the sea).

During the protests, which began on 9 September, thousands camped on the beach a mile from the power plant. Demonstrators were repeatedly forced into the sea by police charges.

Among the tactics the campaigners have used are: mass fasts, human chains in the sea, burying themselves up to their waists in the sand, and, on 22 September, a 700-boat two-hour blockade of a nearby port.
A second fisherman, A Sahayaraj, 42, died after falling on rocks in the sea during a protest on 13 September. He lost his footing when a coast guard aircraft flew extremely low over the protesters.

Hundreds of protesters have been arrested during the campaign this year.
Jal satyagraha
The standing-in-water tactic used in Kudankulam was used earlier in Madhya Pradesh state by people in two villages affected by the building of dams on the Narmada river. After two weeks standing neck-deep in the water of the Omkareshwar dam, 51 Khandwa villagers emerged victorious on 10 September after the state government accepted in full their demands for compensation and rehabilitation.

The 'jal [water] satyagraha' of nearby Harda protesters was not so successful, and their protest was called off after 245 people taking part in the peaceful protest were arrested by police.