Issue

December 2017 - January 2018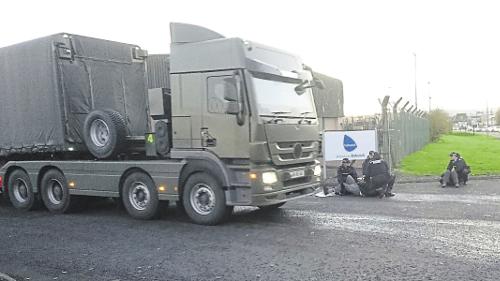 Police holding down David McKenzie block our view of Janet Fenton behind him. Jane Tallents is held down on the right on 16 November at Bannockburn. Photo: Nukewatch
Three members of Nukewatch UK briefly stopped a convoy carrying nuclear bombs on 16 November. The vehicles were leaving a base near Bannockburn on their way from Atomic Weapons Establishment Burghfield to the royal naval arms depot at Coulport near Helensburgh where the warheads are loaded onto Trident submarines.
The three activists were Janet Fenton, David McKenzie and Jane Tallents. They were protesting at the risks posed by the continued transport of nuclear warheads on public roads. The three were arrested and charged with 'obstructing the police' for not moving out of the road when asked. After their release, the activists pointed out that they hadn't been asked to leave the road, they'd just been shoved aside.
During the blockade, the three campaigners were carrying copies of a new Nukewatch report (which two of them wrote): Unready Scotland: the Critical Gap and Our Response to the Transport of Nuclear Weapons. The report found a shocking lack of preparedness for any potential nuclear accident on our roads.