Issue

October - November 2023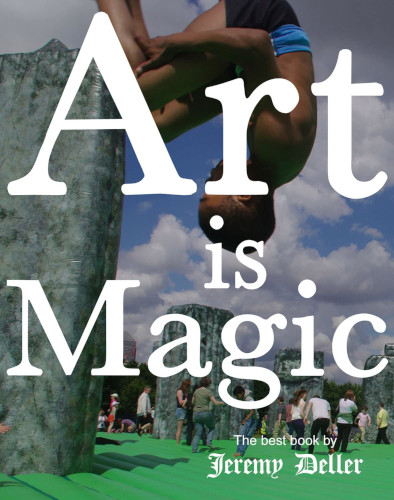 The blurb of this book is a short hand-written note by the artist. It ends by saying: 'It will bring you good luck and help you do sex better.'
That's exactly the kind of schoolboy humour – from the biro of a white, 57-year-old man who was educated at Dulwich College with Nigel Farage – that might put a Peace News reader right off.
But I recommend that you put your prejudices aside, turn the book over and have a leaf through the pages, which document over 30 years of funny, thought-provoking and revolutionary visual art.
Deller won the Turner Prize in 2004 with a film about (then) US president George Bush's Texas, which included footage of his supporters and opponents.
Previous art projects included commissioning a traditional brass band to play acid house anthems and co-ordinating a historic re-enactment of the Battle of Orgreave – the brutal 1984 confrontation between police and striking miners outside a coking plant near Sheffield.
More recently, Deller was commissioned to produce a piece of public art to commemorate the First World War. The resulting work involved co-ordinating a nationwide 'flash mob' of people dressed as soldiers from the time.
Deller takes conceptual art as a starting point and then collaborates with people to achieve his wild imaginings. He has worked with gardeners in Germany, Depeche Mode fans in Russia, steel bands and banner-makers in the UK and he once toured the US with the wreck of a car mangled by a bomb in a Baghdad marketplace.
The latter project was intended to provoke conversations about war. The car was accompanied by an Iraqi who had recently been granted asylum in the US and by a military reservist who had recently fought in Iraq.
'Because the project was under the auspices of a cultural organisation, we were seen as relatively neutral, which was essential. In a sense, we were taking a relic around, a sacred reminder of death,' Deller writes.
For his 2019 film, Putin's Happy, he documented a Brexit protest in Parliament Square in Central London.
Deller is a small man and the film-maker he worked with was even shorter: 'Together we comprised a non-threatening presence…. Some people were quite happy to be filmed being overtly anti-semitic. This was a real thread running through the conversations; as was the Second World War and the sacrifice of soldiers' lives being squandered.'
The design of the book is unconventional and engaging – like a luxurious hand-made zine or a comic book annual.
I particularly enjoyed the accompanying conversations and interviews – especially the dialogue between Deller and Mary Beard in response to the toppling of the Colston statue in Bristol. There is also a quiz, where you are challenged to guess whether quotes belong to William Morris or Andy Warhol.
It's a good example of how Deller finds unlikely connections – between brass bands and acid house, for instance.
Deller's work is often joyful – including the life-size inflatable Stonehenge which was commissioned for the 2012 Olympics and which has toured internationally.
His work celebrates British history and folk culture and, despite his privileged early life, his worldview is egalitarian and inclusive.
Deller studied art history rather than fine art, and this informs his work. For many of his projects, his palette is people and I enjoyed the way he embraces collaboration rather than manipulation in order to achieve his vision. This book allows you to peer into the mind of an innovative 21st-century artist.