Issue

October - November 2023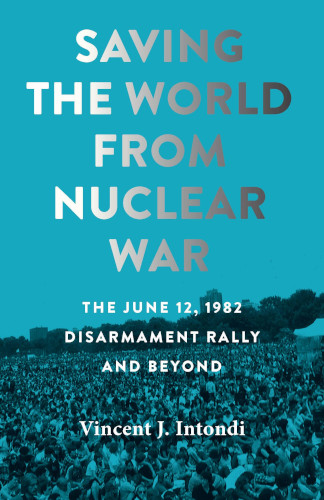 Concise, accessible and well-referenced, this is a wonderful book about a protest I wasn't previously aware of.
Vincent J Intondi, professor of history at Montgomery College in Maryland, USA, sets the scene: surrounded by 'advisors who believed nuclear war was a reasonable option to deal with adversaries' in the early 1980s newly-elected US president Ronald Reagan massively increased both military spending and his warmongering rhetoric.
In response, the anti-nuclear movement, having lost its voice during the Vietnam War, re-emerged, quickly growing to become 'one of the largest social movements' in US history.
The aim of the new nuclear freeze movement in the US was simple: 'The United States and the Soviet Union should adopt a mutual freeze on the testing, production, and deployment of nuclear weapons.'
With polls showing the vast majority of the US public supported a freeze, a rally was organised in New York City's Central Park on 12 June 1982 – to highlight and apply pressure on the Second Special Session on Disarmament taking place at the United Nations a few blocks away.
Based on original interviews with the leading organisers, movement materials, newspaper reports and secondary sources, Intondi tells the story of what, with an estimated one million people participating, was then the largest demonstration in US history.
A large number of established and new organisations were involved, and predictably there were difficulties keeping the coalition together (sticking points included minority representation in the coalition leadership and whether condemnation of superpower intervention in the 'Third World' should be included in the official slogans).
Two days after the demonstration, the War Resisters League co-ordinated sit-ins at the UN missions of the five major nuclear powers. Nearly 2,000 people were arrested, making it 'the largest action of disarmament-related, non-violent civil disobedience ever,' according to Intondi.
Mentioned in passing is the fact that 1.5 million signatures were collected in the UK in support. An impressive number, though dwarfed by the incredible 30 million strong petition from Japan calling for a nuclear-free world, 'weighing twenty tons and transported… in three jumbo jets.'
While the Reagan administration publicly ignored the protest and derided the wider movement, Intondi makes a persuasive case that anti-nuclear activism had a significant constraining influence on US nuclear policy.
More broadly, he summarises the important and encouraging conclusion of US historian Lawrence Wittner's three-volume study of international disarmament campaigning: 'The antinuclear movement… prevented nuclear weapons from being used during the duration of the Cold War.'
Intondi also argues that 'the success of the antinuclear movement in the 1980s was… due in large part to organizing through fear and hope', and connects it to the successful struggle by the International Campaign to Abolish Nuclear Weapons (ICAN) for the Treaty on the Prohibition of Nuclear Weapons, which came into force in 2021.
'June 12 was indeed part of a movement and not a moment,' he concludes.