Issue

August - September 2023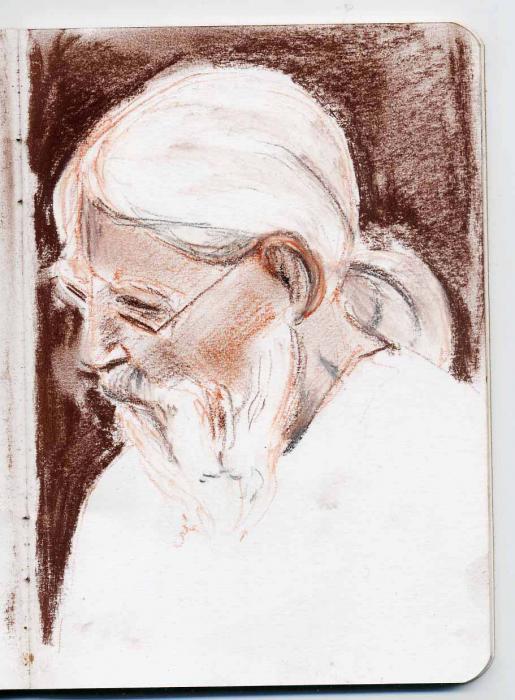 How can I write or think of my dad, without the image of a rainbow coming to mind?
Yoga to Pink Floyd, peace flags, CND, a trip to Greenham Common, quirky nursery rhymes and funny poems (that still fall out of my mouth at random times), steam trains, stamps, museums, family history, follies, postcards, bird-watching, wild flowers, maps, reading, jigsaws, vegetarian, atheist, long hair, long beard, a twinkle in his eye, a smile on his face and rainbows, rainbows, rainbows. A gentle, peaceful man. These are my early childhood memories of my dad.
Roy was an adventurer, always curious about what was round the corner – out on his bike exploring since he was young. He first met my mum while on a cycle tour of the UK when he was 18.
Travelling abroad as a young man (having many adventures, including a stint in prison in Morocco), he always went out there into the world, open to meeting people and discovering new things.
After having decided to get rid of his car and quit flying because of climate change, Roy in recent years had got more and more into exploring the world through cycling, starting in his then home area of Trawden, Lancashire, and ending with his seven countries tour (meticulously planned and hand-mapped, with visits to many friends planned, and photo-documented en route) which he was undertaking when he died.
Father to seven, Roy was also a home-maker – he brought up five of my siblings (biological and step-children, all equally loved) more or less on his own and I know that he was a wonderful father to them.
He did this while working as a youth worker and running community centres, inspiring young people to discover alternative ways of thinking and being; which he did for many years, changing lives for the better.
When I got back in touch with my dad at 21, it was obvious how much we had in common, and he was inspiring to me in a new way. I was already involved in protest, but he encouraged and accompanied me to join in more, find out more and to stand up against injustice.
The mix of people who have contacted me to say how he touched their lives has been diverse and wonderful. Everyone has a story about him. Everyone knew his smile, his dedication, and deep commitment to peace and to making the world a better place.
Although all I have physically of him is a few old photos, a rainbow dreamcatcher I made him years ago, his rainbow peace flag and a few of his (always a statement) T- shirts, I know that much of who I am, and in part, who my children are, has come from him. I know his legacy lives on in the lives of everyone he touched with his rainbow soul.