Issue

August - September 2023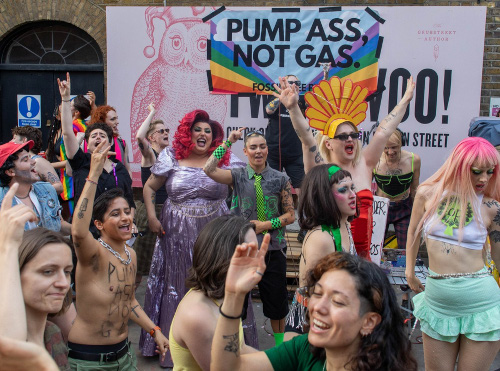 Three successes for climate activists occurred in June. On 16 June, the group Feedback was granted the right to a judicial review.
They had challenged the UK national food strategy for not have a plan to cut meat and dairy consumption, arguing that the strategy failed to take into account ministers' duties to cut carbon emissions as set out in the Climate Change Act 2008.
The high court had refused Feedback a judicial review; the court of appeal has now decided they can take the government to court.
On 21 June, a case was brought to the supreme court challenging Surrey county council's decision to grant planning permission for new oil wells at Horse Hill, near Gatwick.
And, on 22 June, the British LGBT Awards joined many other institutions in dropping sponsorship by gas and oil companies, in this case, Shell and BP. Many of the chosen nominees and judges for this year's awards had dropped out after learning of the fossil fuel companies' involvement.
Just Stop Oil
Just Stop Oil (JSO) has continued its campaign of slow marches in London, six days a week, which began on April 24. The marchers obstruct traffic to publicise their campaign to end all new gas, oil and coal exploitation.
JSO have also continued their disruption of major public events, including the Chelsea Flower Show, with orange paint thrown over a show garden; the Premiership rugby final at Twickenham, when activists invaded the pitch; a performance at the Glyndebourne Festival; the Ashes test cricket series at Lords, with orange paint thrown on the pitch; the London Pride March; the Wimbledon tennis championships; the BBC Proms classical music concerts; and the British Open golf tournament in Merseyside. (JSO said they were not responsible for the orange confetti thrown at the wedding of ex-chancellor George Osborne on 8 July.)
When 60 members of Students Against EACOP (the East African Crude Oil Pipeline) threw orange paint on the outside of the Total fuel company's London HQ on 27 June, four JSO activists joined in with black paint inside the building, in the lobby.
On 31 May, JSO reported that Marcus Decker, a German citizen, sentenced on 21 April to two years seven months in prison for his part in the Dartford Crossing occupation (PN 2666) would face deportation at the end of his sentence.
As of 21 July, JSO reported that its supporters had racked up over 2,350 arrests, and 138 people had spent time in prison, many without trial.
XR
On 18 May, Extinction Rebellion (XR) co-founder Gail Bradbrook announced that conspiracy charges against her (maximum sentence 10 years) had been dropped for lack of evidence. They had been hanging over her for two years.
However, on 13 July, she found herself in Isleworth crown court facing a charge of criminal damage for breaking a window, valued at £27,500, at the department of transport building in London in 2019.
Back in May, XR activists disrupted Lloyds bank's AGM in Glasgow by making speeches and then the Lloyds of London's AGM (by setting off fire alarms and smoke bombs).
On 23 May, Fossil Free London delayed the start of Shell's AGM for an hour with chants, songs and speeches, working with XR.
On 3 July, XR poured oil at the Surrey branch, and sprayed fake oil at the Aberdeen office, of the engineering company Wood Group, which is expanding its fossil fuel business.
On 5 July, XR used a pink boat (with activists locked on) to blockade the access road to the Ffos-y-Fran opencast coal mine near Merthyr Tydfil in Wales.
Coal Action Network had won a major victory in April, defeating an attempt to extend planning permission for coal-mining at Ffos-y-Fran. Merthyr (South Wales) Limited has been mining coal now for 10 months without legal authority – but without any enforcement of the law by either the local council or the Welsh government.
Insulate Britain
On 2 June, nine Insulate Britain (IB) protesters were found guilty of public nuisance by a jury at Hove crown court: Emily Brocklebank, 24, Benjamin Buse, 37, David Crawford, 69, Gwen Harrison, 45, Di Hekt, 68, David 'Bing' Jones, 70, Martin Newell, 55, Theresa Norton, 64, and Ben Taylor, 29.
The charge related to a road blockade at Dover in September 2021 which stopped traffic for over two hours. This was part of the IB campaign of nonviolent resistance demanding the government insulate Britain's cold and leaky homes to save energy. Sentencing was postponed.
A week later, another jury at Hove crown court found four more IB activists guilty of public nuisance: Venetia Carter, 59, Catherine Eastburn, 56, Alexander Rodger, 33, and Cameron Ford, 32. A fifth (Gregory Frey, 27) had pleaded guilty. The charges arose from two blockades of the M25 by IB in September 2021.
The four were sentenced to between two and six months' imprisonment, suspended for 18 months, plus 100 hours of unpaid work, and costs of £1,800 each. Gregory Frey, who pleaded guilty, had his costs reduced to £1000 and was deemed too ill to do any unpaid work.