Issue

August - September 2023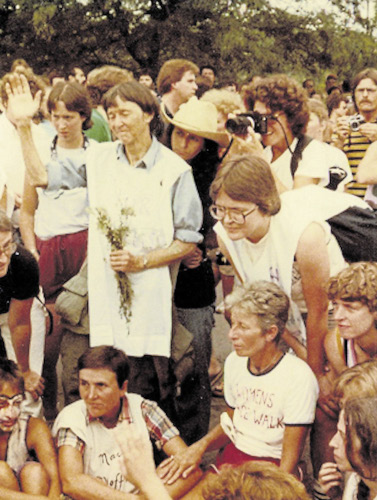 Barbara Deming (1917 – 1984) was one of the most dearly loved civil rights and feminist activists of her time. Born in New York City in 1917 and educated there at the Friends Meeting House Quaker School, she later studied literature and drama at Bennington College and earned a master's degree in drama from Case Western Reserve University in 1941.
Deming began her career as a poet, professional writer, and film critic, and turned to political writing and human rights activism in the middle of her life. After a trip to India in 1959 sparked her interest in Gandhi, she embraced the pacificism of her Quaker background and aligned with nonviolent justice movements, arguing for a strictly secular approach to nonviolent resistance.
As the Second Wave of feminism emerged, she became a leading feminist thinker and activist for the rights of women and the betterment of their lives.
In the 1960s, Deming joined demonstrations against Polaris submarines, took part in the 1962 San Francisco-to-Moscow walk for peace, and attended the International Peace Brigade in Europe.
Protesting nuclear weapons testing at the Atomic Energy Commission led to her first experience with being jailed for civil disobedience, this time at the Women's House of Detention in New York City.
Acting on her belief that the struggles for racial equality and for peace were one effort, Deming marched in the bi-racial Nashville-to-DC walk for peace alongside SNCC [Student Nonviolent Coordinating Committee] members.
In 1963, she joined black activists protesting segregation in Alabama and Georgia as well as attended the House Un-American Activities Committee hearings.
In 1964, she participated in the 2,800-mile Quebec-Guantanamo walk for peace and freedom, a racially-integrated protest over US actions in Cuba. During this march, she was arrested and jailed in Albany, Georgia, an experience she describes in her book Prison Notes.
Deming participated in political actions whenever and wherever individual rights and human dignity were being threatened.
In 1965 – 1967, Deming travelled to North and South Vietnam to protest the war. In the 1970s, she demonstrated for gay rights and feminist causes. In 1983, she was arrested on the march through Seneca Falls, organised by the Women's Peace Encampment to protest the deployment of cruise missiles in Europe. Despite failing health, she was once again jailed.
Deming experienced her first lesbian relationship when she was 17. From 1954 – 1972, she shared her life with Mary Meigs and later the writer Marie-Claire Blais from Quebec, and from 1976 until her death in 1984, Deming lived in the Florida Keys with her partner Jane Verlaine, an artist, radical activist, and author.
Money for Women
In 1975, acting on her passionate commitment to the emerging work of feminist writers, Deming founded the Money for Women Fund with a few thousand dollars she was able to put aside from her monthly income.
In a 1977 letter, she wrote: 'Our capital is still very small... only about $18,000, which I received from an insurance company after I was hurt in an auto accident. But I also add to the Fund's account as much money as I am able to save – several thousand dollars each year.'
After her death in 1984, Money for Women became one of the major beneficiaries of her estate and was renamed Money for Women/Barbara Deming Memorial Fund.
Another part of Deming's feminist legacy, Sugarloaf Women's Village in the Florida Keys, was established in the mid-1970s by Deming and Jane Verlaine. The community grew in the early 1980s when Blue Lunden and Sky Vanderlinde joined Barbara, Jane, and the other women who were living there then.
When Barbara died in 1984, the property passed to Jane who, upon her death in 1992, left it to Blue. Before Blue's death in 1999, she created the Sugarloaf Women's Land Trust, dedicating the property to all lesbians.
At every turn Barbara Deming expressed how important it is for women to encourage the creativity of other women. The Money for Women Fund would not exist without her commitment to the simple principle of giving back: 'In my life I've been helped as a writer to do my work. I think it's fair that I try to help others.'
We can all be grateful for Barbara Deming's generous legacy.
"As the Second Wave of feminism emerged, she became a leading feminist thinker and activist"
-------------
Writings:
Books and articles by Barbara Deming:
Image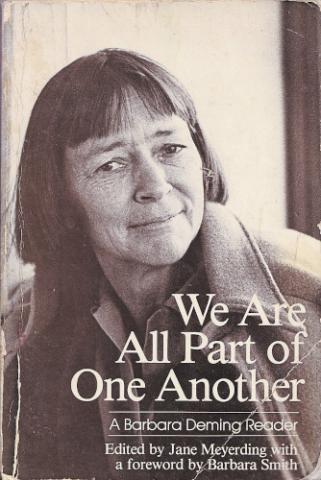 Prison Notes (New York: Grossman Publishers, 1966)
'On Revolution and Equilibrium', Liberation (February 1968).
Staughton Lynd and Alice Lynd, eds, Nonviolence in America: A Documentary History (Maryknoll, NY: Orbis Books, 1995 rev ed)
Running Away from Myself: A Dream Portrait of America Drawn from the Films of the Forties (New York: Grossman Publishers, 1969)
Daniel Berrigan, Barbara Deming, James Forest, William Kunstler, Staughton Lynd and Richard Shaull, Statements of the Catonsville 9 and Milwaukee 14: Delivered into Resistance (New Haven, CT: The Advocate Press, 1969)
Revolution and Equilibrium (New York: Grossman Publishers, 1971)
Wash Us & Comb Us (New York: Grossman Publishers, 1972)
We Cannot Live Without Our Lives (New York: Grossman Publishers, 1974)
A Humming Under My Feet (London: Women's Press, 1974)
Remembering Who We Are (Tallahassee, FL: Naiad Press, 1981)
We Are All Part of One Another: A Barbara Deming Reader, Jane Meyerding, ed (Philadelphia: New Society Publishers, 1984)
Prisons That Could Not Hold, Sky Vanderlinde, ed (Athens: University of Georgia Press, 1995) [Biographical essay by Judith McDaniel; Introduction by Grace Paley; Photo essays edited by Joan E Biren]
I Change, I Change: Poems, Judith McDaniel, ed (Hereford, AZ: New Victoria Publishers, 1996)