Issue

December 2013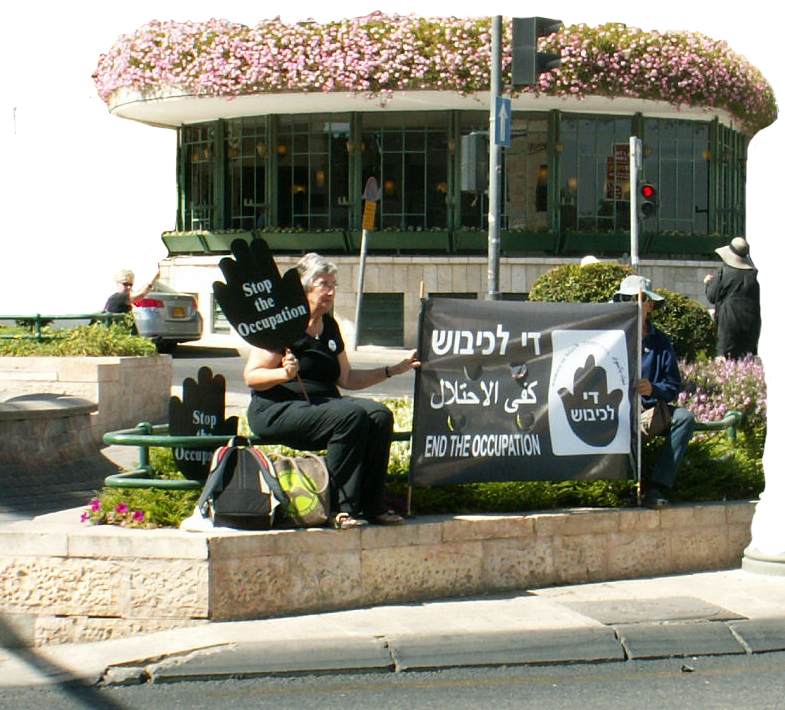 Women in Black vigil in Jerusalem. Photo:Pat Gaffney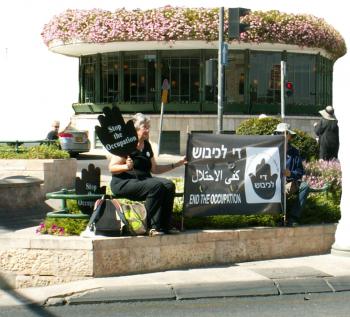 As a Christian, I had often thought of going to Israel-Palestine but had never quite been able to overcome the uneasy feeling of visiting a place regarded as 'holy' which is also a place of such injustice and violence.
That changed in 1999 when Pax Christi held its international council in Jordan and Jerusalem to offer support and encouragement to its partners in the whole region. To be invited by organisations working on the ground for peace and justice to 'come and see' made it somewhat easier to contemplate a visit. Since then I have made six visits to Israel/Palestine, most recently in October.
It is important to have good friends and guides on these visits to help one read the complexities and the geography of the illegal occupation. It is so easy to look at things without seeing what is there. A neat little town on a hillside is likely to be an illegal settlement. A superhighway is actually an apartheid by-pass road open only to those with Israeli permits and car registrations.
These, together with the ugly separation wall/fence and endless checkpoints, are all part of the infrastructure of occupation, the facts on the ground that increasingly erode the possibility of a two-state solution.
Oasis of peace
On this visit, as well as renewing contact with Palestinian partners, we wanted to 'see' another side, to get a better understanding of networks and NGOs working for peace and human rights within Israel.
We spent time at the village of Neve Shalom-Wahat al Salam (NSWAS). Founded in the 1970s through the vision of a Dominican priest, Bruno Hussar, the village is an intentional community which lives together in a spirit of dialogue, respect and co-existence.
NSWAS is formed of 60 families, half Jewish-Israeli and half Palestinian Arabs of Israeli citizenship (the term used in the community), operating through a system of committees and a general assembly to safeguard the vision and obligations of all in the community. The village is a challenge to the 'two-tier' system of citizenship that exists within Israel.
In the village school, every child is taught in Hebrew and Arabic with, where possible, an Israeli and an Arab teacher in every class. During our visit, the whole school spent a day preparing for the Muslim feast of Eid-ul-Adah – learning about its origins and its meaning for today. The same would be undertaken for special days within the Jewish and Christian calendars. This might not seem unusual to us, but in Israel it is a rarity, one small attempt to break down barriers and stand in the shoes of 'the other'.
The village also hosts a much larger School for Peace which brings people from all over the region to take part in training and workshops on conflict resolution and peace-building. The most recent is the Change Agent Programme which is aimed at young professionals and helps to make a link between their professions and what they might do in terms of challenging the conflict and injustice of occupation from within Israel.
About turn
It was hard not to have a knee-jerk reaction to Yaniv, our guide with Ir Amin, an NGO which undertakes analysis the effect of the occupation and conflict on Jerusalem. He said that he had been a tank commander during his national service. But it was this very experience that had opened his eyes to the madness of occupation and prompted him to have an about-turn in his own life, joining Breaking the Silence, the veteran combatants' anti-war group, and using his experiences to inform others, including many Israeli youth groups, of what Israel does to the Palestinians.
Then there was our time with Physicians for Human Rights Israel, exploring more of their work to challenge the inhumane and racist treatment of migrants and refugees in Israel and their work in the West Bank, working with Palestinian teams in clinics and health centres. There were young doctors, nurses, lawyers and journalists, most giving their time freely, some at the expense of their own career, to challenge the occupation and work to shift Israeli policies.
A highlight was meeting Ranine and Noam, two young women who had grown up on NSWAS. They now work for political change in Israel.
Noam related her story of conscription. Her education in the village had made her fluent in Arabic, which both puzzled and impressed the military who wanted her for 'intelligence' work. She quickly made clear her objection to military service and how it contradicted everything she was brought up to be. The tribunal gave her a very hard time and were deeply challenged when she brought her Arab friend Ranine to the court as her character witness.
Ranine and Noam undertake tours together within Israel, the US and Europe to talk about the role of education and coexistence in bringing change within Israel. They articulate the difficulty of talking and witnessing to 'peace' in Israel, the constant challenge to step outside oneself, to sacrifice oneself.
Yaniv and Noam and others who critique the military or become conscientious objectors are called traitors and many doors will be closed to them. Ranine and other Palestinian Arabs may be challenged for 'normalising' the occupation by cooperating with non-Palestinians.
The Women in Black, whom we joined on one of their weekly vigils in Jerusalem, are jeered at and scorned. Many projects, institutions and communities in Israel and the West Bank are now targeted in so-called 'price tag' attacks. [A term used by Jewish extremists to describe vandalism and other attacks on non-Jews or their property, as 'retribution' for Israeli government actions seen as contrary to settler interests – eds.]
We came away with new friends from whom we learned a great deal about the nuances and challenges of peacemaking in such an oppressive environment. We also came away with questions about how best to support them as they contribute to creating peace for the peoples of Israel and Palestine.