Issue

November 2011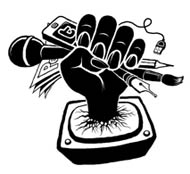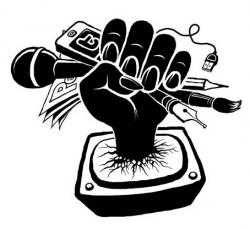 After two years of preparation, the Rebellious Media Conference (RMC), featuring Noam Chomsky, John Pilger, Michael Albert and many others, finally happened on 8-9 October. It was a storming success. Details of what happened, and recordings of various sessions, are available on the RMC website (see end of article).
The RMC began life two years ago, as Peace News staff tried to think of ways to celebrate our 75th anniversary as an activist publication. Our first idea was a dayschool for 40-50 people, organised with Media Lens, to help people get better at putting pressure on the mainstream media. In the end, we had 1,100 people for a weekend conference in two major London venues, with a budget of £42,000, and over 130 speakers contributing to 54 sessions.
On this page are some comments from some participants (with a few responses from us). A summary of the feedback, and a sample of comments, will be available on the RMC site before the next issue of PN.
While a lot of people put a lot of work into the RMC (and the work is continuing as this goes to press), there were two core people who should be mentioned by name, without whom the project would not have succeeded: conference organiser Rebecca Dale (who is taking over as PN finance worker later this month from the highly-esteemed John McAllister), and Gabriel Carlyle, PN promotions worker. While we have no plans to re-run the RMC, Peace News does have other ideas for ambitious radical media projects, to be unveiled in coming months.
The RMC was organised by Peace News, Ceasefire, the National Union of Journalists, Red Pepper, Undercurrents and visionOntv. It was made possible by generous support from the Joseph Rowntree Charitable Trust and Quaker Peace & Social Witness.
 
Comments from participants
What you liked
"The most friendly conference I have ever been to. Everyone prepared to share their experiences/news."
"Obviously, the presence of [Noam] Chomsky and the addition of Michael Albert made the conference outstanding."
"It was fantastic in scope and quality. Hospitality as well as programme."
"Intelligent. Good atmosphere – no nasties."
"Best conference I've ever been to."
"Brilliant – thanks for making life worth living."
"For the first time in my life I have tasted the nectar of TRUE democracy."
"All in all, I had a really good time. Specially given that different perspectives were outlined and debate was respectful eg no swearing. I liked the price breakdown [£15-£75] to allow people of all spectrum of life to participate eg student, unemployed etc, those who can't pay more. Plenty of stewards and bookstalls."
"Liked the fact that you printed the budget for all to see." [The budget is on the RMC website – Eds.]
"What I liked was the cantankerousness of the speakers."
"I liked Veggies vegan co-op catering. Fantastic and very much in alignment with the ethic of the conference."
"Great!! Unique opportunity, we need more of these. Awesome (good) mood from the organisers – super-well-organised."
"Massive range of content and ideas, good opportunity to learn about things I would have never encountered, including people and organisations in my own city."
"I liked: the volume of people, the speakers and the overall gentleness at the treatment of others. A fantastic way to spend a weekend."
"Very inclusive: you don't have to have too much prior knowledge to be able to get involved."
"In the end, I liked the participatory element. I didn't think I would." 
Could be improved
"One glaring omission, come to think was any sign or mention of the faith community to which most activists are blind or hostile. This will have to change."
"I'd have liked less American dominance at plenaries. People central to stories take centre stage. Venues should be council estates community centres. Make it radical and rebellious, not simply middle class alternative."
"The venues were a bit confusing and there could have been better signs."
"Maybe it was deliberate to virtually ignore fighting against mainstream media, but I feel it was a mistake to not have some emphasis on, for example, making sure the Murdoch Empire really is destroyed. Why were other existing media campaigns not active organisers of the conference?" [We did invite Media Lens to become part of the organising at a very early stage, but they were unable to make the dates. The other group you mention, the Campaign for Press and Broadcasting Freedom, would have been a great group to involve – but this conference was not centrally about those issues, but about celebrating innovative radical media projects, deepening people's critique of the mainstream media, and sharing media skills. – Eds.]
"Provide translators for foreign language speakers if possible – Taesun Kwon [executive editor of South Korea's progressive daily national newspaper] was difficult to understand." [PN was in charge of inviting the international speakers and we decided to avoid having translators if at all possible, as this creates a barrier between the speaker and the audience. Something to think about. – Eds.]
"If you're all about cutting costs why are you getting catering companies in to do the tea?" [The two venues only allow tea, coffee and biscuits to be provided by their own catering services – at their usual prices. The organisers felt having refreshments on-site was vital to the event. One reason being that people would just wander off-site to find a cuppa, drifting in late to the sessions that followed. – Eds.]
"Some of the sessions were over-popular: too many people turned up to fit in the room."
"Have a suggestions/feedback board/wall."
"Childcare could be improved." [We polled 750 ticket-holders before the conference and only one person needed childcare (for one child) and we therefore didn't pre-organise a creche – Eds.]
"More time for Q&A with main speakers."
"Incorporate music and more film."
"Make people ask questions rather than allowing them to make speeches in the Q&As."
"I was astonished to hear the chair's comments during Chomsky's keynote: 'I will now have questions from a woman, then a man, etc.' This binary does not help anyone but the heteronormative status quo." [On the basis of our experience, the organisers believed that if we did not impose a gender rota, there would be domination of the Q&A by men, and we felt very strongly that we should prevent this from happening. – Eds.]
"A pity it happened on the same weekend and as the important 10 years event [about the war in Afghanistan] organised by Stop the War coalition in Trafalgar Square." [The date (booked in summer 2010, a year before the Stop the War and the UKUncut Block the Bridge events were announced) was defined solely by when both Friends House and Noam Chomsky were available – Eds.]
Ideas for the future
"Have another conference next year." [Great idea, but... don't hold your breath. The people who did the most work on the RMC are swearing they will never ever organise a conference ever again. Ever. – Eds.]
"Please do this again."
"Why not OUTSIDE LONDON? It is NOT fair that everything happens there. Maybe cheaper outside London!" [The organisers really tried on this. We had a really hard time finding a venue anywhere that seated 800 people, which was our planned number of participants. We did look outside London, but we couldn't find anything that met our needs – Eds.]
"You could have had regional groupings of people so activists from the same area can meet each other." [Brilliant suggestion – like the ones that follow.]
"Use of voice recognition software to automatically have a transcript of the speakers' words up on a screen. Quakers used this system at their 2011 YMG [yearly meeting gathering] and it helped a lot."
"Maybe smaller workshops/ talks around the country, really feel like something like this could work in Bristol but maybe on a smaller scale, as it's such a good opportunity to meet like-minded people."
"Workshop on political cartooning."
"More science."
"More international speakers (Middle East, Asia)." [We did try very hard on this, too, in relation to Latin America and elsewhere. Having said that, we did also have a self-imposed restriction on flying only six speakers to the conference, which left only one more "flown-in" slot. We could have and should have included more people by Skype. – Eds.]
"Airmiles for speakers should be offset, either via a proven scheme (eg World Land Trust) or – at least – by speakers undertaking to reduce their footprint in other ways, such as a vegan diet to compensate."
"More socials between conferences."
"Link us up somehow to occupy the Guardian to force them to have a section on peace, written and organised by CND and Peace News and alternative media and activists." 
Other comments
"The NewStandard session inspired me to start my own local community paper."
"Volunteers were all brilliant!"
"I was disappointed that some presenters, especially in the feminist workshop, seemed to equate 'radical' with digital and 'mainstream' with print. There were times I felt like an alien."
"I am coming away from this conference inspired and ready to fight for social change! Before this conference I was feeling somewhat lost and unsure of where to put my focus. I now have clarity and tools to start working effectively for change."