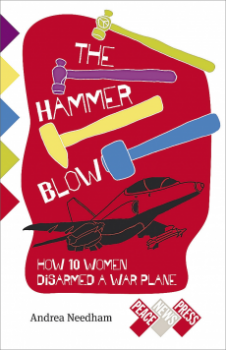 Press release
27 January 2016
Peace News [1]

Contact 07596 483 272 for more info or to arrange an interview with Andrea

WOMAN WHO DISARMED WARPLANE PUBLISHES MEMOIR
New book marks 20th anniversary of land-mark anti-arms trade action

7pm, 29 January 2016, Friends House, London: A woman who disarmed a warplane bound for genocide in South East Asia will be launching her newly published book about the action and subsequent trial at an event in Friends House, London this Friday, the 20th anniversary of the action itself [2].

Published by Peace News Press, Andrea Needham's book 'The Hammer Blow' [3], is an inside account of the Seeds of Hope East Timor Ploughshares action, in which four women used household hammers to disarm a Hawk warplane at a British Aerospace factory in Lancashire in 1996 [4].  The plane was about to be delivered to the Indonesian military, for use in their then-ongoing campaign of genocide against the people of occupied East Timor [5].


After disarming the plane, the women waited to be arrested and were subsequently charged with over £2m of criminal damage.  After six months in prison awaiting trial, they were acquitted by a jury in a landmark case which received extensive national media coverage. They were subsequently awarded the Sean McBride peace prize by the International Peace Bureau [6].

The book has already garnered praise from journalist John Pilger, comedian Robert Newman and poet Benjamin Zephaniah [3]. Green MP Caroline Lucas said: 'Anyone interested in social change, or campaigning for peace, should read this book and take inspiration from the brave actions of these amazing women.' [3]

Andrea Needham said: 'We took this action after doing everything we could to stop the sale of these weapons by other means, and a jury found that what we had done was not a crime.  By telling my story, I hope to inspire other people to speak out against injustice, and to show that even when the cards appear stacked against us, we can still win'.

Contact 07596 483 272 for more info or to arrange an interview with Andrea

NOTES

[1] http://peacenews.info/
[2] 7-9pm, Friends House, 173-177 Euston Road, London NW1 2BJ. http://peacenews.info/node/8253/hammer-blow-how-10-women-disarmed-warplane
[3] http://peacenews.info/node/8245/hammer-blow-%E2%80%93-how-10-women-disarmed-warplane
[4] 'The 'trainer' jet the UK loves to hawk', BBC, 29 May 2002, http://news.bbc.co.uk/1/hi/uk/2012743.stm
[5] 'While casualty estimates vary, anywhere from 60,000-100,000 Timorese were probably killed in the first year after the violence began in 1975.  In 1979 the U.S. Agency for International Development estimated that 300,000 East Timorese — nearly half the population — had been uprooted and moved into camps controlled by Indonesian armed forces.  By 1980 the occupation had left more than 100,000 dead from military action, starvation or disease, with some estimates running as high as 230,000.' ('Ford, Kissinger and the Indonesian Invasion, 1975-76', National Security Archive Electronic Briefing Book No. 62, Edited by William Burr and Michael L. Evans, http://nsarchive.gwu.edu/NSAEBB/NSAEBB62/).
[6] http://www.ipb.org/web/index.php?mostra=content&menu=about%20ipb&submenu=Sean%20MacBride%20Peace%20Prize