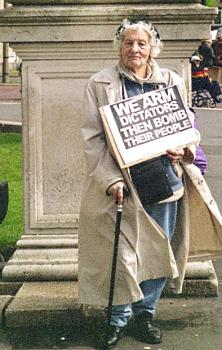 Olwen, one of Wales's most committed and colourful peace campaigners, has died in Aberystwyth aged 87.
She was vice-chair of CND Cymru for 20 years, a representative for Wales on the UK CND council, a member of the International Advisory Group, a founder member of Aberystwyth Peace Network, and the powerhouse for the Chernobyl Childrenís Project in mid-Wales.
Olwen thrived on company and she spread cheer. It was this that attracted me to her many years ago on coach trips from Aberystwyth to Greenham Common. Many of us in our early 30s then, seeing an ìolder womanî taking the lead, were given courage to face the authorities.
Olwen's energy and vision, whether expressed on paper, sung on the streets, or spoken in meetings, have inspired many people in mid-Wales and beyond. With her individual style of dress and classically-trained singing voice, Olwenís campaigning for peace and justice could always be seen and heard.