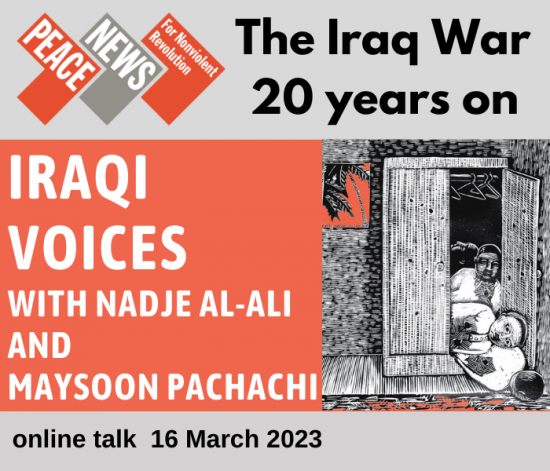 The US-UK invasion of Iraq in 2003 was seen in much of the world as the crime of the century, following another huge crime, over 12 years of economic sanctions that killed hundreds of thousands of Iraqi children. Twenty years on from the devastating invasion, and the start of the occupation, Iraq continues to experience high levels of violence, corruption and political instability.
Two co-founders of 'Act Together: Women's Action for Iraq', which initially campaigned against sanctions on Iraq in 2000, discuss the sanctions, the 2003 invasion, the long occupation and the current state of Iraq.
Nadje Al-Ali is director of the Center of Middle East Studies at Brown University where she is Professor of Anthropology and Middle East Studies. Among her books are: What kind of Liberation? Women and the Occupation of Iraq (2009, co-authored with Nicola Pratt) and Iraqi Women: Untold Stories from 1948 to the Present (2007). 
Maysoon Pachachi is a London-based filmmaker of Iraqi origin. In 2004, with Kasim Abid, she co-founded the Independent Film & Television College, a free-of-charge film-training centre in Baghdad. Her films include: Our River... Our Sky (2021), which takes place in Baghdad in 2006 (and was shot entirely in Iraq in 2019), and Iraqi Women – Voices from Exile (1994). https://riverskyfilm.com/
This event is part of the series: 'The Iraq War 20 years on'. See here for other events: https://peacenews.info/events