Welcome to Peace News, the newspaper for the UK grassroots peace and justice movement. We seek to oppose all forms of violence, and to create positive change based on cooperation and responsibility. See more
"Peace News has compiled an exemplary record... its tasks have never been more critically important than they are today." Noam Chomsky
NEAT and tidy in the pink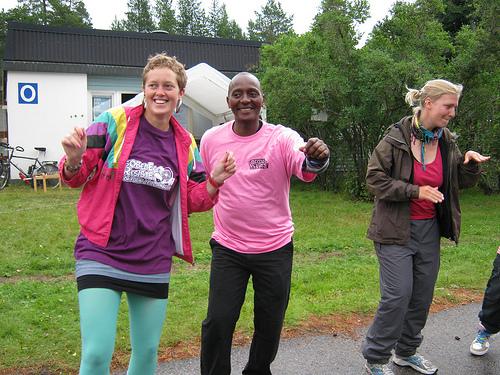 For the last week of July along with other pink clothing we took a dayglow pink dustpan and brush to help sweep up the militarisation in the north of Sweden and make it NEAT. We went to join the 'War Starts Here' peace camp to protest against the development of this into part of an 'Arctic NATO of the Baltic Countries'. This heightened activity in North Europe is explained by an increased interest in the Arctic and its natural resources and the US missile defence system.
Ofog and WRI organise this pink event brilliantly so that altogether people from 17 countries were able to participate in the mass action on Tuesday 26th July at the boundary of the prohibited area of the largest military testing range in Europe. In the last two years Ofog [an early Swedish word meaning mischief] had had previous manifestations at NEAT, the Northern European Aero Testing range, but this was by far the largest action they had organised in this relatively isolated northern part of Sweden 150 Km north west of the town of Lulea. We were transported there by two coaches, five minibuses and 15 cars. It was a marvellous sight seeing this convoy making its way to this militarist site. Altogether 190 people plus those who set out the evening before, were involved in this pink event. I felt it was really symbolic to use the colour pink against the war machine.
Those who spent the night in the forest were the highlight of the event. They actually got into the airbase and painted pink peace signs and arrows on the runway showing where war starts. The rest of us, wearing pink, painted the road with pink peace signs that leads to the base. We were helped by Nordic clowns and then we all did a die in. At the appointed time we released pink helium filled balloons from our prone positions.
There were so many of us it seemed unlikely that we would be arrested if we walked up the road to the entrance to the base and this prove to be so. Those internationals who were arrested for entering the base were dealt with during the next few days in Lulea.
More about NEAT
During the seminar we learnt some sobering facts about Sweden. A supposedly neutral country of 9million people they have the highest percentage of military equipment manufactured per head of population. With a low density of population [moose discounted] NEAT is Europe's largest overland test range. It is described as having 'Vast space – Limitless possibilities !' it is nearly as large as Belgium. The opportunities include – *open 24 hours per day, 7 days a week, all year around *services and infrastructure for testing, evaluating and operating aerospace vehicles *catering to all vehicle types such as aircraft, helicopters, UAS [drones] missiles, space systems. NEAT is operated by Swedish Defence Material Administration (FMV)
In 2009 a US national security directive said that they had broad and fundamental security interests in the Arctic Region. Last year NATO used NEAT for trials without the Swedish Government consulting their Parliament. This amounted to collaboration with US imperialism and seems unlikely to help to bring peace to Europe or the world! While we were there fighter jets kept overflying us in Lulea helping us to realise the reality of what this beautiful wilderness is used for. Yet one more example of the US using NATO for its own designs and with the collusion of many other states. Along with northern Norway this area is described by the Pentagon as 'the Northern flank and of extreme militarily importance'. The US now has military bases in all the Baltic States and many in and around the north west of Norway often referred to as one of the biggest and best equipped aircraft carriers for the United States. Norway promised not to have US bases on their soil but has eight called Collocated Operations Bases, with airstrips, stored ammunition, fuel and spare parts. They also have a huge radar in Vardo just outside the Russian border. Norway has now admitted it is for missile defence, radar technology aimed specifically at Russia. And this is not to mention the US submarines based off northern Norway too.
In January this year Cameron hosted 9 Baltic countries getting them to discuss an agreement on the foundation of a new military alliance. This came out of the Stoltenberg report in 2009 "Nordic cooperation on foreign and security policy". In March Liam Fox stated that "We would like to create a broader framework that makes it easier for both NATO and non-NATO members to have a closer relationship in the region."
This is an idyllic northern area with magical forests, waterfalls and presumably Father Christmas too but war certainly does start here and we all need to be aware of the build up of military bases and alliances. We must challenge both NEAT and NATO whenever we can.
For information and photos: http://www.ofog.org/english