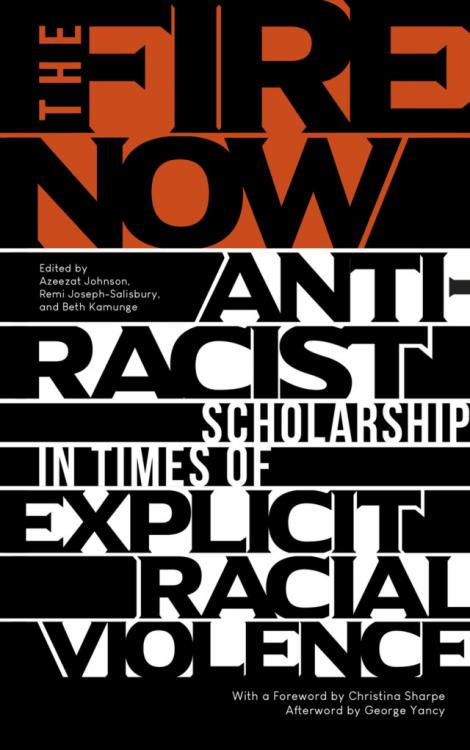 A new book, The Fire Now: Anti-Racist Scholarship in Times of Explicit Racial Violence, published by Zed Books is being launched on Saturday 10 November in London. Peace News contributor Marc Hudson conducted an email interview with one of the book's three editors, Remi Joseph-Salisbury, presidential fellow in sociology at the University of Manchester. The other authors are Azeezat Johnson, an ESRC postdoctoral fellow at Queen Mary's University of London and Beth Kamunge, who is studying at University of Sheffield.
1. What has spurred you to put together this book at this time? What's in the book?
The book is born out of frustration, anger and a sense of urgency to respond to the particular forms of racism and fascism that have surfaced in recent years. Its also born out of love and hope and recognition of the beauty of resistance. The book includes contributions from a group of truly amazing academics and activists who are committed to anti-racist scholarship and practice.
With authors writing from and about a number of different countries – including (but not limited to) Kenya, Canada, the United States, Britain, and Ghana – the book seeks to push us towards a more global perspective on contemporary anti-racist scholarship. The international connections are particularly manifest as Sam Tecle and Carl James ask whether a Donald Trump-like figure could rise in Canada, and Keguro Macharia asks the same of Kenya.
The book is divided into four sections that we believe are key considerations for contemporary anti-racist scholarship. In the first section, the authors reflect on the state of the academy and urge us to think critically about the challenges and opportunities it offers for anti-racist social change. For anti-racist scholars, we argue, it is imperative for us to understand the (white supremacist) nature of the spaces from which we struggle.
In the second section authors focus on the importance of intersectionality for anti-racist work. In so doing, contributors encourage us to expand its scope, and consider how intersectionality can help us to better understand recent events.
The third section is really about the need to draw to draw connections across time and space, to learn from lessons of the past in order to inform our future, and to strive to build an international movement. The final section urges us to 'understand and reframe oppression' and place the onus on our agency and resistance.
2. What do you hope it will achieve – who should read it, why? How would you like to see people engaging with the material?
We hope the book is a call to arms for scholars and activists. We hope it inspires scholars and activists to continue in the strong tradition of anti-racism that has gone before us: to strive to be international, intersectional, and to do the work with urgency.
The book is about learning from the past to inform an anti-racist future. It adopts a critical lens to explore a number of issues including the 2017 Women's March, the impact of climate change, and face-veiling court cases. By taking these familiar issues but engaging them with attentiveness and a commitment to anti-racism, the authors offer insights that we hope will challenge the perspectives of readers. 
We hope that the book will be read by students, academics and activists and that the ideas will be discussed (and critiqued) widely, and we hope that others build upon our work in the same way that we have built upon the work of so many that have gone before us.
In putting this book together, we have been committed to ensuring that the book is written in accessible and engaging language so that it breaks free of the ivory tower and brings more of us into the conversation. In our attempt to utilise a range of different forms, the book includes creative pieces and poetry alongside polemics and more conventional pieces.
3. What next? What work do you see being done, as academics and activists, that inspires you on anti-racist activity in the UK (and beyond). What are the dangers ahead?
There are a lot of challenges and signs that should concern us in this moment. There seems to be a rise in explicit forms of racism and fascism, and consistent attempts to shut down anti-racist work. We really shouldn't take lightly the problems on the horizon. We should, however, recognise the amazing work of grassroots activists and those in the academy who are pushing against the status quo. Key to our effectiveness, we would say, is the need for us to draw connections and work together: starting from the position of those at the margins.
4. What's happening at the launch?
The launch event will be on Saturday 10 November from 2pm–5.30pm at the David Sizer Lecture Theatre, Francis Bancroft building, Queen Mary University of London. Confirmed speakers include professor Akwugo Emejulu, Lowkey and some of the authors of the book. The event will include plenty of time for discussion and contribution from attendees on the future of anti-racist scholarship.