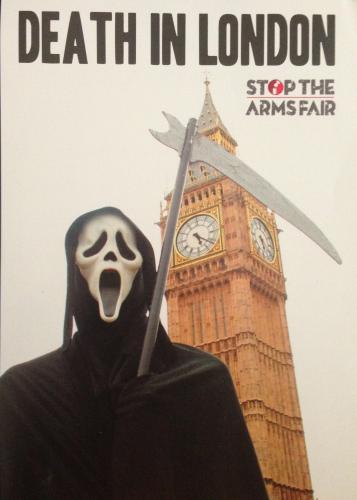 The City Circle held its weekly public meeting at the Abrar House Friday evening, featuring two experts on the international campaign against arms trading.

In less than two weeks, London will play host to the world's largest international arms trade fair. The city will welcome 30,000 arms dealers and 1,400 exhibitors or companies to the ExCeL Centre for Defence & Security Equipment International (DSEi), which is held here every two years.

But for many Londoners, and campaigners from all over the world, DSEi is not a welcome event.

Leading up the three-day fair, which kicks off 10 September, activists have organized vigils and demonstrations to highlight major concerns about arms trade.

The meeting on 30 August was simply called 'The Fair is Here.'

Speakers Kirsten Bayes and Barnaby Pace addressed about 40 members of the surrounding communities and answered questions from the audience.

Kirsten Bayes is a long-time campaigner for various peace and social justice movements. She started campaigning against DSEi in 2003, and in 2011 she joined the Stop the Arms Fair coalition team.

Stop the Arms Fair is a coalition of groups, such as Occupy London and Campaign Against the Arms Trade (CAAT).


In her speech, Bayes explained the arms fair, put forward arguments for resisting it, and shared details about some of the upcoming events.

On 10 September, members of Stop the Arms Fair and other campaigners plan to stake out the dealers' arrivals. The action is being called Greet The Arms Dealers, and event details can be found at stopthearmsfair.org.uk

'You'll see them on the Tube, they stay in all the hotels, you'll see them all around if you're in that part of town,' Bayes said of the dealers, whose infiltration of East London and the ExCeL Centre leads to severely-heightened security.

'Helicopters in the sky, all the roads shut off, the stations in that area, which the people might want to use to probably get to work, a lot of the access to those close down,' Bayes said. 'Once the arms fair comes to town, that's it; it's in charge.'

While arms companies General Dynamics and BAE Systems sponsor the fair, it is subsidised by the government, using taxpayer money.

BAE Systems manufactures Britain's nuclear submarines and other military vehicles. General Dynamics is famous for creating one of the most dangerous military tanks in the world and manufactures the US's nuclear submarines.

'So, 1,400 companies, 30,000 visitors, sponsored by evil,' Bayes said, 'but also paid for by you.'

Barnaby Pace spoke further about the relationship between arms trade and politics. Pace regularly researches and writes about corruption and arms trade, and has appeared as a commentator on Al Jazeera, Sky News, and the BBC. He is also an elected member of the Campaign Against Arms Trade steering committee.

He addressed what he identified as the three main pro-arms trade arguments: providing jobs, national security, and the phrase, 'if we didn't do it, someone else would' – which Pace called 'a moral fallacy.'

Addressing the employment argument, Pace noted that in the UK, the state subsidises each arms job by about £12,000 per year. He suggested the opportunity for transferring these workers into other fields, such as renewable energy and nuclear power.

Pace also emphasised that multinational corporations dominate arms trade. Thus, they are difficult to regulate and are not tied to the interests of one country or government. Large arms manufacturers often contribute weapons to multiple sides of armed conflicts.

He cited the example of Libya, where a British arms company provided weapons to Gaddafi's troops and the rebels, and also provided missiles to the British and French troops for strikes against the nation.

A major critique of arms trade, and DSEi in particular, is that it allows companies affiliated with nations like the UK to sell weapons and military vehicles to oppressive regimes, furthering the possibility of war crimes.

DSEi 2011 included 14 authoritarian regimes, 8 countries that were involved in major armed conflicts, and 5 countries with 'the most serious wide-ranging human rights concerns,' according to the UK Foreign Office.

Speaking about the supporters of and contributors to international arms trade, Pace said, 'They're measuring their profits in pounds and their losses in lives.'