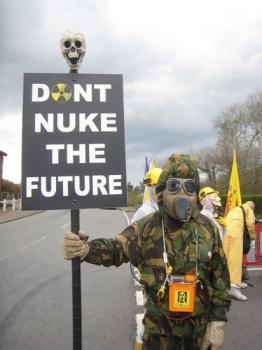 The fourth annual camp at Sizewell nuclear power station took place between 20-22 April, the aim of which was to both oppose the building of two planned reactors and a dry fuel storage dump and to provide information about about nuclear power to local people.

The choice of the April date itself was to commemorate the Chernobyl disaster which occurred on April 26, 1986.

The weekend included a demonstration at the gates of the power station attended by between 80-100 people and included a number of speakers such as Peter Lanyon from the 'shut down Sizewell' campaign and Pete Wilkinson from the Sizewell Stakeholders group.