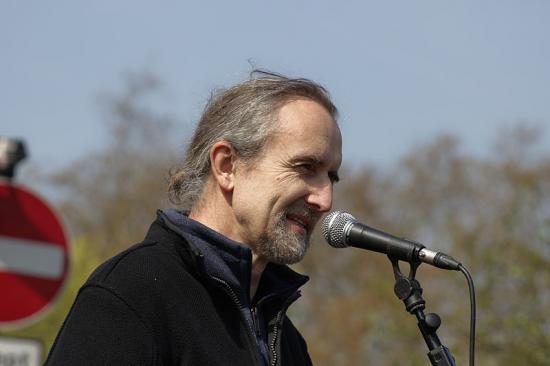 On 21 July, a new political party calling itself 'Beyond Politics' threw buckets of pink paint over the front doors of Amnesty International, Greenpeace, Friends of the Earth and Christian Aid.
The driving force behind the new group – which launched itself at the end of June with a shoplifting stunt at a branch of Sainsbury's in Camden – appears to be Extinction Rebellion (XR) co-founder Roger Hallam.
On 25 July, XR UK issued a statement clarifying that 'Roger Hallam no longer has a formal role' in the organisation.
A letter to the four NGOs on the Beyond Politics website noted: 'Since we wrote to you last week demanding you bring down this genocidal government you have done fuck all'.
The statement also accused the NGOs of 'appeasing radical evil', demanding that they either 'disband' themselves 'or drive [their] organisations into a final battle with this genocidal regime. That means your executives going on hunger strike, your staff going to prison, your supporters blocking the roads.'
The truth?
In a lecture posted on the XR YouTube channel on 11 July (and since viewed over 20,000 times), Roger Hallam claims that XR's radicalism has been diluted as a result of so many people joining it and that a 'prophetic minority' must now take action to shift people to 'the objective truth line' and 'save society'.
The central 'truth' driving Hallam's projects continues to be his claim that 'if we don't slash carbon emissions in the next five years, we're all going extinct'.
Hallam has repeatedly claimed a scientific basis for such assertions, though none exists.
A recent article on the Open Democracy website, co-authored by a member of Scientists 4 XR, notes that such assertions are 'especially damaging for any movement whose first demand is to "Tell the Truth." Using sloppy science hands ammunition to the denialist opposition, allowing them to claim that things aren't nearly as bad as we say and dismiss our demands'.
The article adds: 'believing that the end is nigh undermines the kind of long-term planning that will be crucial to Extinction Rebellion's continued success.'