Welcome to Peace News, the newspaper for the UK grassroots peace and justice movement. We seek to oppose all forms of violence, and to create positive change based on cooperation and responsibility. See more
"Peace News has compiled an exemplary record... its tasks have never been more critically important than they are today." Noam Chomsky
The Hammer Blow: UK Speaking Tour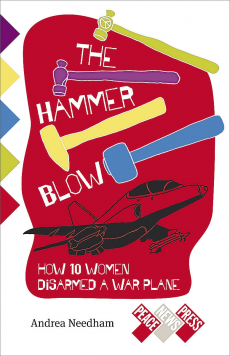 Twenty years ago, on 29 January 1996, a small group of women broke into a British Aerospace factory in Warton and disarmed a Hawk warplane bound for use in Indonesia's then-ongoing genocide in East Timor. Charged with committing over £2m of damage, they spent six months on remand before being acquitted of all charges by a jury – a verdict that generated national media coverage and inspired countless activists across the globe.
On 29 January 2016 Peace News launched 'The Hammer Blow: How Ten Women Disarmed a Warplane', Andrea Needham's gripping inside account of this seminal action - the start of a UK-wide speaking tour in which Andrea will be talking about this action and its lessons for today.

Please email hammerblow@peacenews.info (or call 0207 278 3344) if you would like to invite Andrea to come and speak to your local peace group, church, school, union branch or bookshop. Hosts will be expected to cover her travel expenses (via public transport from Hastings), as well as to provide accommodation and a meal if she's unable to return on the same day.

See here for a taster of Andrea's book.

Buy the book here.

The Hammer Blow blog: https://thehammerblowblog.wordpress.com

Upcoming events:
8 November, Bedford:. 7.30-9.30pm. Friends Meeting House, 5 Lansdowne Rd, MK40 2BY. Facebook event. Contact lyn4peace@outlook.com
14 November, Hebden Bridge: 7pm, The Book Case, 29 Market St, HX7 6EU. Contact summerjanis[at]gmail.com. Facebook event

15 November, Bradford University: 12:00pm, Norcroft Lounge, Norcroft Centre, Richmond Road, Bradford. Organised by University of Bradford Peace Society. Contact peacesociety@ubu.bradford.ac.uk. Facebook event
15 November, Leeds: 7pm, West Room, Leeds Civic Hall, Calverley St, LS1 1UR. Organised by Leeds CND and Leeds Coalition Against the War. Facebook event. Contact dave@spaceforpeace.org.
16 November, Edinburgh: 7pm, Peace and Justice Centre, 5 Upper Bow, Edinburgh EH1 2JN. Map.
17 November, Newcastle: 6pm, Ellison Building A001, Ellison Place, Northumbria University. Organised by Faith in Northumbria University group. Facebook event
29 November, Brighton: 7.30pm, Cowley Club, 12 London Road, Brighton BN1 4JA. For for members of 12 London Road Club and their guests, but you can join the club on the night for £1
18 January, London: The Feminist Library, 5 Westminster Bridge Road SE1 7XW. Time tbc
Past events: London (10 February); Hastings (23 Feb); Oxford (8 and 10 March); Brighton (27 March); Reading (7 April), Southampton (28 April), and Luton (17 May); Shrewsbury (7 June); Liverpool (9 June), Oxford (11 June), London (7 July), Ipswich (5 Oct), Sheffield (18 Oct), and London (27 & 29 Oct).
------------------------------------------------------------------
The heroic actions of this small, but determined, group of women is told brilliantly in Andrea Needham's fascinating account…. You can sense just how much human life matters to each and every one of these women. They spent six months in jail for acting upon their consciences – but were eventually, and rightly, found to be innocent. Anyone interested in social change, or campaigning for peace, should read this book and take inspiration from the brave actions of these amazing women.' - Caroline Lucas, Green MP for Brighton Pavilion
'The Seeds of Hope East Timor Ploughshares action was one of the most imaginative and successful direct actions in modern-day Britain. It demonstrated that principle and courage are natural, crucial allies. Andrea Needham was part of that action, and her eagerly awaited book is now here. Read it and learn how to change the world.' - John Pilger