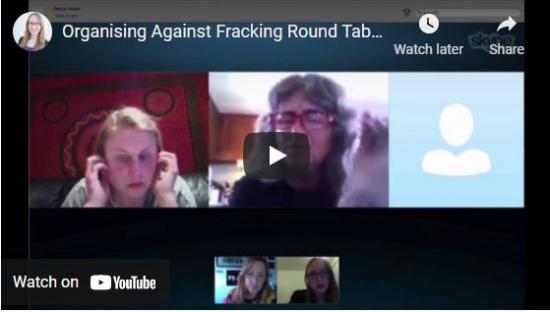 Citizens from around the world have demonstrated against powerful governments and industries to say 'no' to fracking. Some have been met with success, others disappoint, and many more with on-going struggle. Peace News brought together four activists on 17 April 2014 – two from the UK and two from the US -- to learn about how they have organised, what they have learned and what is next for their movements.
Participants:
Vera Scroggins – Citizen Gas Tours, Pennsylvania, USA
Maura Stephens – Various groups, New York, USA
Fiona Brookes – Campaign for Climate Change, London, UK
Tisha Brown – Frack Off London, London, UK
Facilitator: Emily Masters – Peace News, London, UK / New York, USA
Also read: Organising against fracking, Peace News, June 2014 
'We have little mini successes and we celebrate them because we need to; otherwise we'll go stark raving mad,' New York activist Maura Stephens said during a Peace News round table discussion via video chat on 17 April.
During the conversation, two American and two British anti-fracking activists compared how each of their movements have organised and brainstormed what tactics might be most successful for fighting fracking in the future.
Stephens thinks organisers need to reflect on what is working and what is not, and toss out most strategies in favour of fresh ideas to rejuvenate the movement in the United States.
In New York, there is currently a state-wide moratorium on shale gas extraction and a ban on drilling over the NYC watershed. In Pennsylvania, fracking is legal and pervasive, Stephens said.
Beyond campaigning against drilling, activists are concerned with natural gas pipelines, compressor stations, gas storage terminals, waste dumping, environmental impacts, water usage and contamination, industrial accidents, road congestion, and environmental illness.
Pennsylvania activist Vera Scroggins and Stephens both expressed a feeling of isolation and hopelessness, working in what they called 'a warzone.' Scroggins added that perhaps they needed to be the 'sacrificial lambs' so that others could have a better life.
Frack Off London organiser Tisha Brown pointed out that the situation in the UK is very different than that of the US, noting that the UK only has four well sites as opposed to thousands in the US.
'Here, the industry is still in its infancy,' she said. This has given UK organisers more time to create strong community-led resistance.
Their main tactic has been to employ the Australian strategy 'Lock the Gate,' in which activists build encampments near exploratory drilling sites, organise community blockades and rig occupations, and slow down industrial truck movement. They aim to cost corporations and the government money, as well as get the issues reported by the media.
'It has definitely caused public opinion to change and not support fracking so much,' Brown said. She is hopeful that activists can stop drilling from coming to the UK.
An important part of achieving success for both UK and US organisers has been recruiting local communities, not just professional activists, to stand up against powerful industries and governments.
"In the UK […] we have the lessons of looking across the pond to the States, seeing what's happened there,' Brown said.
Using the United States as an example, Brown said it is easier to approach ordinary citizens and talk about the dangers of fracking. 'It adds an urgency to stop it,' she said. Activists are working to make fracking an election issue in 2015.
'The percentage of the population that accept fracking in their backyard is less than one in four in our country. The number of people, how they feel about fracking, be it anywhere, is about fifty-fifty,' Brown said, referencing a University of Nottingham study that queries if anti-fracking protests, along with other factors, have turned the tide of public attitudes towards shale gas extraction.
The largest and most reported anti-fracking protest in the UK was held in Balcombe this past summer.
'Something that has become prominent, tactic-wise, in the UK is protest camps,' said Fiona Brookes, who has been involved in camps for the last three years and works for Campaign Against Climate Change in London. She noted that Balcombe was significant because 'it was in the really right-wing heartland of the southeast.'
'Balcombe was huge; that was hundreds and hundreds of people,' Brookes said. 'We had a march when people came for the day and that was thousands of people.'
Scroggins was shocked. 'That's amazing, the numbers they get,' she said. Brookes noted, however, this isn't always the case.
'I've organised camps in Lancashire that were absolutely tiny and that's because the weather is crap and its up north. I got really pissed off with the media as well because they refused to come,'' Brookes said, referring to the trend for journalists to focus on events closer to London – for example, in Balcombe.
Scroggins said protests in Washington, D.C. can pull thousands of marchers but other areas don't see the same support. Even with crowds in the capital, Stephens was disappointed.
'Three thousand people in a country of some 80 million is pretty pathetic,' she said. 'Basically the industry just laughs at us.' Stephens compared these numbers to the millions who protested against the Iraq War only to see their governments invade.
'If [large-scale protests] didn't mean anything for [the government before Iraq], then we need new strategies,' Scroggins responded.
In the US, litigious tactics have been met with more success than demonstrations.
'We discovered that the communities were not legally able to tell the frackers how to do their business, they couldn't regulate it within their boundaries, but they could ban it entirely,' Stephens said. In New York, 167 communities have banned fracking using 'Home Rule.'
In Pennsylvania, Scroggins has found that by doing her own reporting on the influx of industry, she is able to reach a wider audience. Scroggins' runs citizens tours of fracking sites to show people who normally wouldn't experience drilling what is happening.
'She's our single greatest ambassador,' Stephens said. For people who are not able to visit, Scroggins creates videos to help people visualize the impacts of fracking.
In London, urban activists don't have a singular visually engaging location for protests and have had to get creative.
'For Frack Off London, because we don't have any drilling sites in London at the moment, […] so where do we go?' Brookes said. Activists' solution has been to hold stunts outside conferences and office buildings to expose natural gas investors.
'The investors like hiding behind the fact that no one knows who they are,' Brookes said. 'They don't like the risk; they don't like the fuss. But we turn up […] with gas masks, chalk on the pavement and smoke bombs, and they were like, "Who the hell are these people? How do they know who we are?"' Brookes said the goal in London is to embarrass these companies out of investing.
Stephens has lived and worked in urban, suburban and rural settings and experienced the difficulty of linking urban campaigns with rural ones.
'What we found was food is the one thing that connects us,' she said. 'What we started was "Food Not Fracking." It's the partnership between city people who love their green markets and country people who bring [food] to the green markets.'
Common experience has also linked citizens against natural gas drilling in both the UK and the US.
'Some of the most successful non-violent actions have involved elders taking the lead,' Stephens said. 'Nobody likes to see Grandma get hauled off to jail or beaten, or Grandpa. We have a group here [in the US] called the Raging Grannies, and they are joyful. They sing […] and they have great protest lyrics.'
Knitting Nanas has also been very successful in the UK. 'I think it is touching on the fact that it is real people; it is not the usual suspects,' Brookes said. 'It makes it so much more real for people.'
Stephens also suggested reaching out to survivors of environmental cancers and respiratory diseases willing to share their stories. 'Those people have a powerful message to share. Those are all preventable diseases,' she said.
Brookes believes that hearing the stories of people around the world 'already five or six years down the line,' already living next to rigs and feeling impacts of fracking in their community, would inform the decisions of people just starting to face these threats. 'We should be sharing these stories so people don't have to have the rig at their back door to be woken up,' Brookes said.
Scroggins thinks it would empower communities to hear the stories of real people, not individuals backed by industry or large organisations.
Participants also agreed that to understand what they were working towards in the campaigning against fracking, they needed to take in the global picture.
'For me, it is fighting about, "What is the society I want to live in?" Because it is definitely not this one,' Brookes said.
Participant Autobiographies:
Vera Scroggins – Citizen Gas Tours – Susquehanna County, Pennsylvania, USA
I am a 63-year-old grandmother, resident of Susquehanna County, Pennsylvania, USA and have documented with visits, photographs and videos the gas development here since its onset in 2008. I have over 600 videos of my involvement with the industry and local government, exposing and calling all regulatory agencies many times and reporting to the world. I've given Citizen Gas Tours for years to show elected officials, media and citizens the industrialization of our neighborhoods and rural county.
I have been brought to court in October 2013 by one of the biggest drilling companies, Cabot Oil and Gas, and have received an injunction/restraining order, temporary and still under it to stay 100 feet away from gas sites and access roads. I am still in litigation/court and my next court date is July 2nd, 2014 to fight this order and to show that I am not a danger. I have three lawyers helping me pro-bono: a private Pennsylvania attorney, ACLU of Pennsylvania attorney and Public Citizen Attorney. I am testifying at hearings to show the dangers and violations of this industry regularly and write and document all that is happening to us and show the world.
Maura Stephens – Various Groups – Southern Tier, New York State, USA
Maura Stephens is a journalist, educator, theatre artist, and activist based in the Southern Tier of New York State, in the region targeted for fracking.
In 2010 she co-founded the Coalition to Protect New York, a regional organization composed of about 32 local groups from the central, Finger Lakes, and Southern Tier regions of the state and devoted to bringing local bans throughout the region and eventually enacting a state-wide ban on not only fracking but all related industrial activities.
That year she also cofounded FrackBustersNY, whose mission is to make fracking and related heavy industries crimes in New York State Law, with mandatory heavy financial penalties and jail sentences for the top executives and board members of the offending corporations. The group wrote Public Law Number 1; Maura will be happy to send a copy to anyone who'd like one (an updated version is about to be uploaded but is not quite ready).
She is also a member of the group that conceived the 2013-introduced Food Not Fracking, a partnership between New York City residents who want to keep their food supply safe and farmers from regions that supply the city with much of its produce. In 2012 Maura co-founded two smaller groups: the countywide RAFT (Residents Against Fracking Tioga [county, NY]) and the hometown Save S-VE (Spencer-Van Etten).
All of these groups have various similar and different challenges. Among the biggest are geographical distance, the rural character of the communities engaged, lack of telecommunications facilities (and in many cases, abilities), lack of funding (surprise!), and age of the memberships.
In 2010 Maura wrote with her CPNY partners this definition of "fracking," which has now taken hold throughout the U.S. movement: 'The word "fracking" is our word, chosen carefully, with deep understanding of the history and practice of the fossil-fuel industries. We use the term "fracking" to mean all the processes involved in exploring, developing, extracting, disposing, storing, and distributing shale gas (so-called "natural" gas) via unconventional drilling, and all related industrial activities. We use it secondarily but equally importantly to denote the fracturing of our health, environment, properties, communities, legislatures, media, and way of life by those who would usurp and abrogate our rights. We also do not use the term "natural" gas. The only natural state for gas (mostly methane) trapped within shale rock deep in the ground underlying us is to remain where it is. The term "natural," like many other carefully chosen terms used by industry, is intended to give the false impression that shale gas is a benign and "clean, green" fuel, when in fact its extraction via fracking is likely as dirty as coal, as pointed out in studies by Robert Howarth, Ph.D., David R. Atkinson Professor of Ecology and Evolutionary Biology at Cornell University, and colleagues, as well as other non-industry-funded scientists.'
Fiona Brookes – Campaign Against Climate Change – London, UK
Fiona was born in Brisbane, Australia and moved to the UK when she was very little. She is an activist and campaigner, who have been politically active for a number of years on climate change, fracking, the National Health Service (NHS), anti-fascism, racism and the economic crisis. As well as being involved in some high profile direct actions to raise awareness of climate change - including abseiling of Tower Bridge during the 2012 London Olympics and chaining herself to the gates of Buckingham Palace ahead of the Queen's diamond jubilee, she firmly believes that by addressing climate change in the right way we can also create the opportunity to address global social justice issues simultaneously. As well as harbouring a deep desire for systemic change in how we operate as a society.
She has been organising against fracking since 2010, when as part of the Campaign against Climate Change (CCC) she organised the first peaceful protest camp against fracking in Lancashire in September 2011. This was the first drilling site in UK, and community groups opposing the process were just emerging. Out of this camp Frack Off! A single-issue campaign against fracking was born. We aimed to be a support network for grassroots action on the ground, as well as putting pressure on politicians to take action.
We successfully got Caroline Lucas, Member of Parliament, to table an Early Day Motion in the House of Commons that called for a moratorium on "fracking" until more research could be done into its impacts. After an earthquake in 2011, after Cuadrilla fracked, the Department of Energy and Climate Change issued the moratorium until the cause of the earthquake had properly been assessed.
Since then Fiona whilst at CCC has organised public meetings to bring all the grassroots groups together. Another camp was held last year 2013 in Lancashire that said no to fracking but also pushed for One Million Climate Jobs, organised transport to fracking sites, and helped to produce literature on fracking and climate change connection.
Fiona has also been involved since 2011 in Frack Off London (FOL) who organise stunts at major shale and oil conferences in London and at the premises of investors in the industry, such as Lord Browne's house. FOL have become notorious at industry events, and the last conference held on the UK budget day was relocated on morning due to fear. It was relocated to a Ministry of Defence building, which had military security. FOL is growing in size and in impact, and has recently got Vivienne Westwood to be an open supporter and backer of the campaign.
Tisha Brown – Frack Off! London – London, UK
Tisha Brown is a campaigner with Frack Off London, a grassroots anti-fracking organisation in London.  We campaign around unconventional oil and gas extraction from within the capital where many of the company headquarters are located as well as the seat of government.
I would be interested to know how other campaigners who work in a city have been able to engage local residents.  Specifically there seems to be a huge anti-fracking movement in New York.  We'd like to replicate that here in London.  I would also be curious to know what strategies other campaigners have used to put pressure on the national government in their respective countries.
Facilitator Autobiography:
Emily Masters – Peace News – London, UK / New York, USA
Emily is a Peace News intern who has spent the past four months reporting on international nonviolent direct action movements for the publication. She is currently studying abroad at the Ithaca College London Centre. In the United States, she attends university at Ithaca College in Ithaca, New York, where she is a second year journalism student with minor courses of study in politics and Spanish language.
She has an interest in reporting on international energy policy, which has led her to cover anti-fracking activism for The Indypendent in New York City last summer and now for Peace News in London. During her reporting, she noticed interesting similarities and differences to how activists organise themselves against the government and industry in both countries, mostly due to circumstantial and cultural differences.
Aiming to produce work for Peace News that both highlights successful organising techniques and explores cultural comparisons, she got the idea for a round table discussion. Emily hopes bringing together passionate citizens will create meaningful conversation about how and why activists do the work they do.