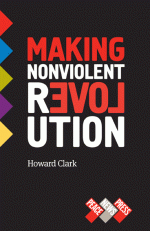 "My vision of nonviolent revolution isn't of a united mass movement sweeping away the institutions of the status quo, but of people acting in their own situations to take control of their own lives and asserting different values, values which have been systematically suppressed." Howard Clark, from the introduction.
For this 2012 edition of Making Nonviolent Revolution, Howard Clark has added an afterword referring to the experience of the Spanish indignad@s (an inspiration for the Occupy movement) and the inspiring history of a groundbreaking radical co-operative in Venezuela.
Price includes p+p for UK delivery. For international shipping, add £2. For shipping costs for bulk deliveries contact Peace News.