Issue

April 2011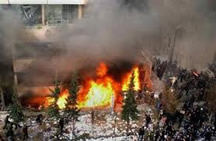 An attempt to discover more about the circumstances of British drone strikes in Afghanistan has been blocked on the grounds that disclosing this information "would prejudice the capability, effectiveness and security of the armed forces in Afghanistan".
Peace activist Chris Cole, who co-ordinates the Christian peace group Fig Tree and maintains the invaluable blog Drone Wars UK, first filed a Freedom of Information Act request about the strikes in November 2009.
The ministry of defence (MoD) rejected this on the grounds that it was "likely to prejudice the defence of the British Island". This March, following an appeal by Cole, the information commissioner upheld this refusal.
124 killings
Following a statement by David Cameron (during his December 2010 trip to Afghanistan) that British drones had killed 124 "insurgents" over the previous 29 months, Cole has filed a second request, this time asking "whether all those killed by British UAVs were directly participating in hostilities at the time they were killed and how many of the identities of those identified by the prime minister as insurgents are known to the MoD?"
According to Human Rights Watch, "only combatants or civilians who are directly or actively participating in hostilities may be lawfully targeted" during armed conflict.
Big and small
Meanwhile, in other British drone news: Newcastle University has a won a contract with UK arms company QinetiQ to help create a massive solar-powered surveillance drone for the US military, capable of flying continuously for five years; British arms giant BAE Systems have signed a memorandum of understanding with French company Dassault to work together on a new armed drone; and the MoD has issued a "contract notification" (worth £10m-£20m) for a fleet of tiny "nano" drones weighing no more than 200g "to support its operations in Afghanistan", deliveries for which could begin this year.