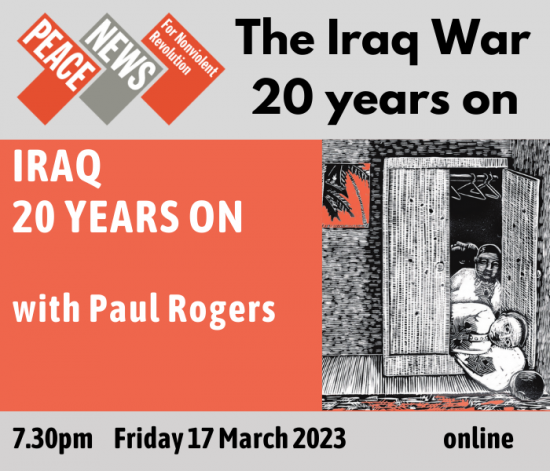 When: 7.30pm (GMT), Friday 17 March 2023
Register on Zoom: https://www.tinyurl.com/peacenews3960
Britain's best-known peace researcher, Paul Rogers, has kept a careful eye on Iraq since the summer of 2002, when he predicted a US-led war against the Saddam Hussein regime. In the years since, he has documented the brutal air wars, the harshness of occupation, and the rise of the 'Islamic State' terror network.
Paul Rogers is emeritus professor of Peace Studies in the Department of Peace Studies and International Relations at Bradford University. His books include: Irregular War: ISIS and the New Threat from the Margins (IB Tauris, 2016) and the fourth edition of Losing Control: Global Security in the 21st Century (Pluto Press, 2021).
This event is part of the series: 'The Iraq War 20 years on'. See here for other events.
It is possible to join these Zoom meetings by phone. If you'd like a guide to doing that, or if you have any other questions, please get in touch:  020 7278 3344; editorial@peacenews.info