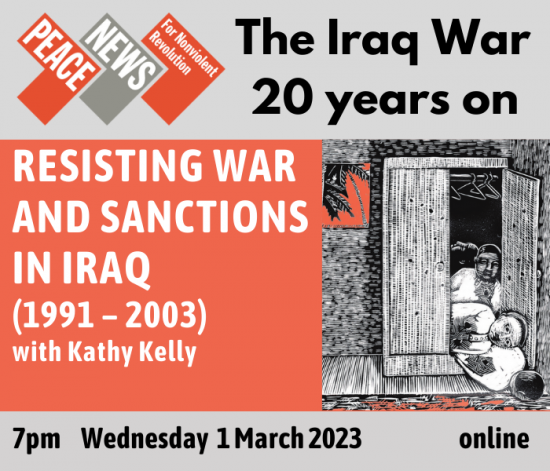 When: 7pm (GMT), Wednesday 1 March 2023
Register on Zoom: https://tinyurl.com/peacenews3958
Chicago-born pacifist Kathy Kelly co-founded Voices in the Wilderness, which challenged the immoral economic sanctions on Iraq by breaking them, bringing medicine to Iraqi children and families on 70 delegations despite the threat of 12-year prison sentences and million-dollar fines. Kathy travelled to Iraq 26 times; she was with the Gulf Peace Team during the 1991 war and part of a Voices presence in Iraq in 2003.
Arrested more than 60 times, Kathy has been to US federal prison four times. She is the author of Other Lands Have Dreams: from Baghdad to Pekin Prison (2005) among many other writings.
This event is part of the series: 'The Iraq War 20 years on'. See here for other events.
It is possible to join these Zoom meetings by phone. If you'd like a guide to doing that, or if you have any other questions, please get in touch:  020 7278 3344; editorial@peacenews.info