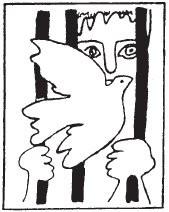 1 December is Prisoners for Peace Day. For over 60 years, War Resisters' International have publicised the names and stories – and prison addresses – of those imprisoned because of their actions for peace. This is a chance to write to someone whose freedom has been taken away because of their work for peace.
We can find the prison address for Julian Assange here – please do write to him as he is waiting for the verdict in his extradition trial, due on 4 January. In his written evidence to the trial, Noam Chomsky wrote: 'In my view, Julian Assange, in courageously upholding political beliefs that most of us profess to share, has performed an enormous service to all the people in the world who treasure the values of freedom and democracy and who therefore demand the right to know what their elected representatives are doing. His actions in turn have led him to be pursued in a cruel and intolerable manner.'
The Nuclear Resister has the addresses for three peace prisoners on its site at the moment. One of them we're leaving out, because it's so difficult in the UK to buy and send a US 'pre-stamped postcard'. The other two are below. Please send a card to:
Leonard Peltier, a Native American political prisoner framed for abetting murder while defending traditional indigenous from threats including uranium mining on sacred lands –
Leonard Peltier 89637-132,
USP Coleman I,
US Penitentiary,
PO Box 1033,
Coleman, FL 33521,
USA
Song Kang-Ho, convicted on 23 September 2020 and given a two-year prison sentence for cutting the fence and entering the Jeju navy base (on 7 March 2020) to pray for peace at the remaining part of the sacred Gureombi Rock, something Dr Song had been doing regularly before and during the construction of the base –
Song Kang-Ho (Prisoner No. 219)
Jeju Post Office PO Box 161,
Jeju City,
Jeju Peace Island,
Korea 63166
Prisoners for Peace Ambazonia
On 1 December every year, War Resisters' International (WRI) provides the names and addresses of people imprisoned for their nonviolent work for peace and justice. In 2019, WRI started featuring the details of campaigners from Ambazonia, the English-speaking semi-autonomous state within Cameroon.
The French-speaking authorities in Cameroon have been trying to take away the autonomy of Ambazonia and, among other things, impose French law and the French language. This sparked a lawyers' revolt in 2016, a general strike and other forms of struggle.
The Cameroonian state has convicted and imprisoned nonviolent Ambazonian activists on charges including terrorism, secession, rebellion and the propagation of false news.
The following Ambazonian prisoners for peace are listed on the WRI website. All can be written to at the same maximum security prison address:
Prison Principale Kondengui Yaoundé,
BP 100,
YAOUNDÉ,
Cameroon
Ambazonian prisoners:
Awah Thomas,
Aselech Martin,
Barrister Eyambe Elias,
Barrister Shufai Berinyuy,
Dr Cornelius Njikimpi Kwanga,
Dr Egbe Ogork,
Dr Fidelis Ndeh-Che,
Dr Henry Kimeng,
Dr Nfor Ngalla Nfor,
Guingah Valentine,
Mancho Bibixy,
Mr Julius AyukTabe,
Mr Wilfred Tassang
Penn Terence Khan,
Professor Augustine Awasum,
Tamngwa Martin,
Tha Emile Angwe,
Tsi Conrad.
Before writing...
WRI's suggestions. In general, in writing your card, think about what you would like to receive if you were in prison.
Remember to send your card in an envelope
Include a return name and address on the envelope
Be chatty and creative: send photos from your life or drawings
Let the prisoners know what you are doing to stop war and war preparations
Avoid writing anything that might get the prisoner into trouble
Try not to begin your correspondence with: 'You are so brave, I could never do what you have done'
Remember that the prisoner may not be able to reply
Remember – next year, it could be you....