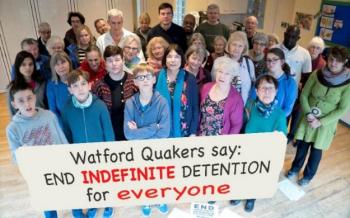 In times of crisis, people often react by coming up with quick fixes, quick strategies and quick actions to address the challenges we face. Although quick responses are sometimes necessary, we need to be careful in how we articulate our demands and how we organise. Climate breakdown, white supremacy and so many other 'crises' in the news right now are not actually new. For many communities around the world including here in Britain, crisis is very familiar. You can see this in the profit-driven projects that impoverish and displace communities in the global south, and in the racist policies that punish migrant and refugee communities in the global north. Crisis is what many of us know.
Sustained change demands that we identify the deep, inner, transformational work that must be done, rather than quick fixes.
At the annual gathering of Quakers in Britain this year, Quakers looked at sustainability through the lenses of power and privilege. This gathering gave Quakers space to share and strengthen their understanding of connections between climate change and its root causes: patriarchy, colonialism, capitalism and racism.
I spoke to a few Quakers across the country involved in the Sanctuary Everywhere project. They are committed to creating a culture of welcome and hospitality, acknowledging and dismantling racism wherever is found, and changing the law around destitution, detention and deportation. Much of what they do is the sustained transformational work I refer to. Here are three examples of what that looks like.
Chester Sanctuary Meeting
Chester Friends took their time before committing to become a Sanctuary meeting. I spoke to Karen Dickson, who explained why. While the group was very well-intentioned, some realised that good intentions were not going to be enough when they saw how others were interpreting Quakers supporting people from refugee or migrant backgrounds. Onlookers were almost making Quakers the heroes of the story, shifting attention away from those resisting the system with their lives. The Quaker group realised they needed to understand and change the power dynamics of the situation, and ensure that their work was shaped by expertise rather than acclaim.
Chester Meeting became a Sanctuary Meeting around the same time Chester became a City of Sanctuary, and the meeting now offers free room hire to Sanctuary organisers and others working on similar issues. Their meeting house has become a physical place of sanctuary, regenerating relationships divided by hatred and prejudice.
The work ranges from local to individual. Karen supports a friend who is navigating the immigration system, an experience that has proved re-traumatising. Chester Sanctuary Meeting is also involved in campaigning to end detention, doing work that helps to remove the discrimination structured into our immigration system. For Karen, the racial justice work Chester Meeting does through Sanctuary Everywhere is a logical part of Quaker peace work.
Leicester Sanctuary Meeting
Angela Walker from Leicester Sanctuary Meeting told me about how happy her family is to live in such a multicultural community. She remembered her time teaching at a local school where more than 26 languages were spoken, and how important that will be for her granddaughter as she grows up.
Image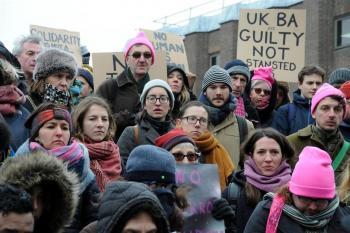 Angela also spoke about a time when their meeting house (where Quakers meet for worship) was vandalised. The incident took place after they had started supporting the Stansted 15, who stopped a charter flight in 2017. The graffiti, which read 'idiots', did not prevent Leicester Sanctuary Meeting from standing against illegal deportations and detention – in fact, they curated two exhibitions in the meeting house to educate visitors about racial justice work. Leicester Sanctuary Meeting also works very closely with City of Sanctuary and other local organisations standing against racism and trying to dismantle it wherever is found.
On 27 March, people from Leicester packed out the meeting house for an event featuring the Stansted 15 in conversation and experts with lived experience of immigration detention. To make it happen, Leicester Sanctuary Meeting worked with many local and human rights organisations, including the Red Cross, Unite the Union and Leicester Civil Rights Movement.
Watford Sanctuary Meeting
I met Emily Janes and Amanda Woolley from Watford Sanctuary Meeting for a chat at Friends House in London. They gave me a copy of their monthly newsletter, which they send out to their networks. In this edition of the newsletter, they reported a very rich list of activities. They were working with other organisations in their local community to collect food, clothes and other needs; they were providing free use of the meeting house to local groups; they had just run a workshop on power and privilege; they had hosted two well-attended public meetings about detention and deportation.
Through their Sanctuary Meeting newsletter, Amanda and Emily managed to engage most Friends in their meeting house with the work, and by creating opportunities for everyone to participate.
Working with local organisations meant they were able to provide practical support to migrants and refugees, and lobby for changes in the law. Quakers from the meeting are part of three constituencies, and they organised meetings with two of their MPs. They shared with me how anxious they felt before their first meeting with their MPs, until they realised they could talk from experience, as they had been there for friends who faced the weight of the immigration system. This experience has enabled them to appreciate the importance of challenging the status quo, especially because charity laws mean that many organisations can no longer do this type of advocacy.
Watford Sanctuary Meeting is formed of 20 Friends who are creating Sanctuary Everywhere, but also know they are connected to a bigger group of people working on racial justice in this country and around the world. They are doing some amazing work to challenge the law as well as creating the foundations for a community that thrives together.
Watford, Leicester and Chester Sanctuary meetings are only three of the 97 Sanctuary meetings working on racial justice across the UK. The work in each of these places takes many different forms, because the context is different in each place. They are united by the common aim of dismantling discrimination wherever is found, including in ourselves, and a shared vision: together we can transform the immigration system into one that is truly equitable, peaceful and sustainable for all.