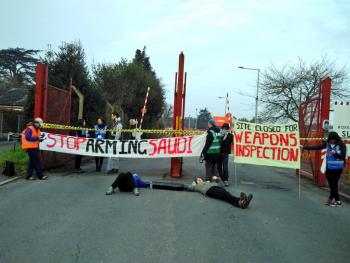 On 9 April, the People's Weapons Inspectors visited a Roxel factory which builds propulsion systems for missiles. Their aim was to carry out a 'people's weapons inspection', to find out whether parts built at this factory (near Kidderminster in Worcestershire) might be used by the Saudi military in the war in Yemen.
The inspectors believed that the factory was manufacturing components for Brimstone missiles that are due to be exported to Saudi Arabia for use on Saudi Tornado jets. Ekklesia reported: 'The People's Weapons Inspectors, some from ecumenical Christian peace group, Put Down The Sword, decided that they had to act when on 12 March 2018, an order in progress for one thousand Brimstone missiles for Tornado jets appeared on the Stockholm International Peace Resaerch Institute (SIPRI) Arms Transfer Database.' Inspectors came not only from the Christian-Quaker direct action group Put Down the Sword, but from the London Catholic Worker. 
The inspectors blocked the entrance with 'locked-on' protesters who lay down with hands connected in arm tubes, and banners saying 'Site closed for weapons inspection' and 'Roxel: stop arming Saudi'. Nicholas Cooper, a spokesperson for the inspectors, said: 'Obviously, we were all peaceful and I think people's reaction to us was peaceful, but we were surprised we did actually get to speak to somebody senior in the company. The human resources manager met myself and two others and he appeared to want to listen to our concerns.'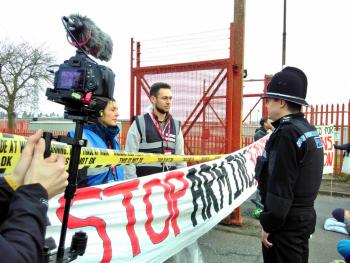 After blockading the main entrance for over five hours, the People's Weapon Inspectors left the site without any arrests (either by the inspectors or the police), and without having spoken with a director of Roxel, one of their demands. Roxel is a Franco-British weapons company specialising in the design, development, manufacture and sale of solid propulsion systems and related equipment for rockets and missiles (including cruise missiles) for air, sea and ground forces.