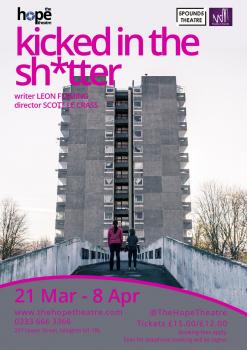 I've written a play, Kicked in the Sh*tter. Sounds a bit grim, but it's pretty funny.
It is.

That's the plug over.

When I first wrote this play, I had no idea what I was writing. Or why.

But I soon realised I'd been writing about a world I know well; albeit one so much darker now, than it was when it was mine. The two characters are people I have known. More than that though; they are me, a lot of me; more than I would usually allow. That frightens me.  

My play exists in an unforgiving world - one we'd see every day if we didn't choose to close our eyes to it. It revolves around two people with their own individual mental health difficulties, struggling to hold their heads above water; fighting with the government over back-to-work assessments and the minefield that is the benefits system in the UK.

Because I lived on a council estate for a year back when I was in my early twenties, I have some idea what I'm talking about. I worked in a pub on the estate and I claimed Job Seekers Allowance and Housing Benefit. This community was populated by very busy people. Warm, immensely generous people. Some were working, and some weren't.
I was also surrounded by heroin addicts and people with a whole range of dependency issues and specialist needs that just weren't being catered for as well though. These were a forgotten people. Actually, not forgotten; neglected.

This play has also forced me to acknowledge my own relationship with mental health; those unspoken of, invisible illnesses that affect so many of us.


Once I knew what I'd written, I knew exactly why I'd written it.

We need to negate the damage done by the spread of 'poverty porn'.

For years we've been inundated with a very clear and successful campaign of propaganda, helped along very nicely by the British print media and television executives. Governments have actually had to do very little to convince us that those utilising the welfare state for the purpose it was created for, are nothing more than opportunists and parasites; layabouts, crooks, the unwashed and those that want only to suck the state dry of the money provided by the honest, hard-working, family-orientated tax payer. With our goggle-boxes pumping out chav-tastic TV delights such as Jeremy Kyle daily, easy low-aimed dumbed-down television news broadcasting and a slurry of exploitative and dishonest faux-documentary programming like Benefits Street, Benefits Britain and other slime of their ilk; there's very little need for the truth. The government takes the food out of our childrens' mouths, and we stand to applaud them for it.

Reality is a hard pill to swallow, but the fantasy given to us by poverty porn is better than anything we can purchase from some street dealer doling out a taste of oblivion to those who make a decision between food or light on a daily basis. Benefit fraud is still seen to be the largest destructive force to our proud and nurturing welfare state, and yet its cost in the benefits bill is nothing more than negligible. We are an easily fooled people.

I can tell you all this, in a blog. It's easy. All it requires is that you believe me. But what if you don't; you just ignore me. And that's the problem. You decide whether or not to engage or to trust. Theatre can do something different though. In the bubble created by a play, with the rest of the world and its problems shut out; I can ask questions. And though you may resist my probing at first; there's no way out. I'm showing you things and asking you why. Is this acceptable? If it's not, what should we do?

All art asks questions; that's its point. But more than any other art form, theatre is communal while personal at the same time, immediate and three dimensional; and that's why for me it is the greatest medium we have created for dragging thoughts out of a society. As a playwright I feel I am in an enormously privileged position; I don't have to stand on a pulpit and scream and yell and wail in the hope that my sermon will make people want to change the world. I just have to ask the question, and it is with your contemplation that you take up the cause; with your answers that the world is changed.