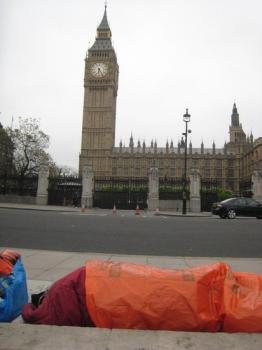 Following long-term Parliament Square peace campaigner Maria Gallastegui's unsuccessful High Court challenge of the blanket ban (literally) on 'sleeping equipment', tents and other structures in Parliament Square under the Police Reform and Social Responsibility Act (PRASRA) 2011 (Part 3), which came into force last December, resulting in the removal on 3rd May of her last peace box and tent (Maria has since lodged an appeal with the Court of Appeal), Maria has continued to sleep from time to time in the square in the open, on the pavement, with just a sleeping bag and tarp / survival bag, and cardboard or other matting. Sometimes these items have been seized in the middle of the night and Maria has been issued with a court summons, whilst on other occasions she has been left alone.

Last Sunday, several supporters of Maria's Peace Strike campaign spent the night in the square during a 24-hour peace vigil to coincide with the NATO summit taking place in Chicago. A number of people made use of sleeping bags and/or survival bags, etc during the night and were not confronted by any police officers or other 'authorised officers' for doing so.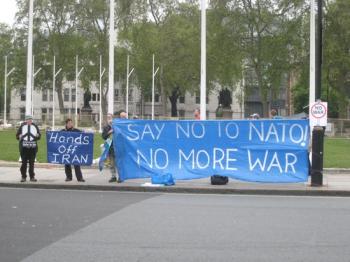 It remains to be seen whether lack of enforcement against overnight protesters (or others) with sleeping equipment, etc will continue in future, or whether the authorities will enforce the new law as and when they feel like it. It would be helpful if people could share information about how and when the new PRASRA provisions are being applied in practice.
See photos of Peace Strike box seizure on 3rd May
See more photos of Parliament Square 24-hour peace vigil last weekend