Welcome to Peace News, the newspaper for the UK grassroots peace and justice movement. We seek to oppose all forms of violence, and to create positive change based on cooperation and responsibility. See more
"Peace News has compiled an exemplary record... its tasks have never been more critically important than they are today." Noam Chomsky
Weaving Our Own Web: Using the Internet to Campaign Effectively & Strengthen Our Groups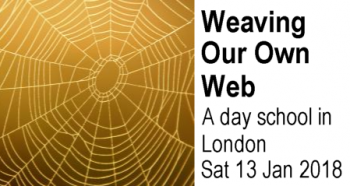 A gathering for grassroots and local activists with web experts including Jim Killock (Open Rights Group), Ruth Coustick-Deal (OpenMedia.org), Usayd Younis (Generation Revolution), Chris Henderson (social media campaigner), Emma Sangster (Peace News), Cedric Knight (GreenNet), Kirk Jackson (Campaign Against Arms Trade) and others to:
Learn about tools that can help your group work together better, and campaign more effectively.
Discuss the politics of the internet - including debates around Facebook, and...
Share your knowledge and experiences with other campaigners
Workshops and discussions include:
I don't know anything! A three-part course introducing online campaigning tools
WordPress for World-Changing
Using social media to win your campaign
Ask a techie – your chance to resolve your IT nightmares
Practical privacy online
A free and open internet
Tech challenges for small to medium-sized campaigns
See here for a complete list of workshops, speakers etc...

If you can bring a laptop or tablet (or smartphone) that will help you to get the most out of the day, but there will also be some computers available on the day. There will be WiFi available at the venue.
If you're part of a campaigning group, we recommend coming with someone else from the group.
Location: 2 Canonbury Villas, London N1 2PN. The venue is fully wheelchair-accessible. See map
Time: the day starts at 10.30am and will finish at 5pm.
Registration: This event is free but please register your participation. Childcare will be available and can be booked until 31 Dec 17.
Some resources from the dayschool:
Wordpress for campaigns by Kirk Jackson
Social media presentations are available at chrishendersonactivism.org/peacenews
Detoxing your phone by Ruth Coustick-Deal and Usayd Younis
Censorship and the internet by Jim Killock
Making strong passwords easier
Highlights from the round-up of the day
Ad for the next Feminism and Tech event on 24 February 2018 at the Feminist Library
Ben's falafel recipe - yum!