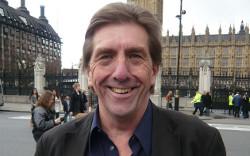 On 7 October, Chris Coverdale of Rye, East Sussex, was imprisoned for 42 days by Hastings magistrate court, for refusing to pay over £1,800 in council tax to Rother district council.
According to the Hastings & St Leonards Observer, Chris said he believed it would be a criminal offence under the Terrorism Act 2000 to pay taxes for the government to use in illegal foreign warfare.
'My case is that I refuse to break the law,' he said, continuing: 'I have never refused to pay tax but I am refusing to commit an illegal act: to hand over money for the purpose of terrorist actions.'
The background to the case is explained on the Campaign to Make Wars History website, in a July 2014 document which Chris used in trying to appeal against his conviction and sentencing. Chris writes:
The legal action that forms the basis for this case commenced in 2013 when I moved to Rye in Sussex and informed Rother District Council [RDC] that I would withhold payments of council tax until the illegal wars had ended, HM Forces had returned to their bases in the UK and criminal proceedings had begun against UK citizens responsible for war crimes. RDC then commenced proceedings against me and in October 2013 Justices at Hastings Magistrates Court granted a liability order ordering me to pay council tax.
I appealed the ruling on the grounds that it was illegal and that it breached my rights to a fair hearing under Article 6 of the Human Rights Act and applied for the case to be stated for the opinion of the High Court so that the jurisdiction and meaning of the Terrorism Act 2000, the International Criminal Court Act 2001 and the Rome Statute of the International Criminal Court could be determined. Hastings Magistrates' then refused to apply for the case to be stated for the opinion of the High Court on the grounds that the application was 'frivolous'.
I applied for a judicial review of this decision and in March Mr Justice Foskett refused permission for a judicial review stating: "Whatever the rights and wrongs of the position the Claimant wishes to take about the actions of central government in relation to engagement in wars, it has nothing to do with the payment of council tax."
To see an earlier tax resistance declaration that Chris was involved in drawing up, please visit the Tax Rebellion website.
Chris is now (at least temporarily) in Lewes prison, where you can write to him:
Christopher Coverdale, HMP Lewes, 1 Brighton Road, Lewes, East Sussex BN7 1EA
We tried to get a prison number for Chris, but were told this is now only available from Chris himself (or his solicitor, only he doesn't have one). We were advised instead to write his full date of birth on the envelope, only we don't know it. Chris may well be moved on from Lewes if the prison is full.