Issue

June - July 2021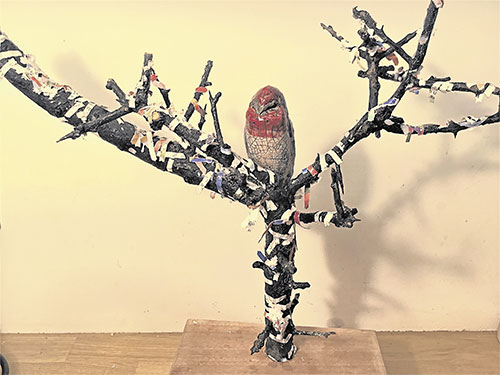 Sadly, stories of displaced communities are all too familiar but to the community of Epynt in the heart of Breconshire in mid Wales, it was 'the end of the world' as the old lady of Hirllwyn Farm put it as she watched the family furniture being moved by horse and cart.
It is a year since descendants and friends of the Epynt community commemorated the 80th anniversary of the Chwalfa – the eviction of 54 families from their homes and livelihood when the ministry of defence seized 30,000 acres at Epynt to turn it into a training area and firing range.
Cymdeithas y Cymod (Fellowship of Reconciliation) is delighted to be collaborating with local artist, Tanwen Wilkinson, on a project inspired by the commemorations and by the pacifist poet Waldo Williams' poem 'Daw'r wennol yn ôl i'w nyth' ('The swallow will return to her nest').
In exploring the hopeful symbolism of the swallow, Tanwen has created over 200 unique ceramic swallows using clay from significant sites on Epynt and ancient techniques for working the clay.
Moulded from clay from streams and riverbeds, the birds are an embodiment of the wild beauty of the mountain landscape and the spirit of its people since early times.
The raku glaze reminds us of feathers or veins or even the sheep lines and paths crossing the mountain which have been replaced by a web of targets on a military map.
The swallows catch the breeze, whistling their message of hope to all displaced peoples that, one day, they can return to their homes and homelands.
For Tanwen, the creation of the swallows is an act of remembrance and of celebration of the wild beauty of Epynt. It is also a vehicle for raising awareness not only of the story of Epynt and its people but of the fate of all displaced peoples across the world.