Issue

December 2020 - January 2021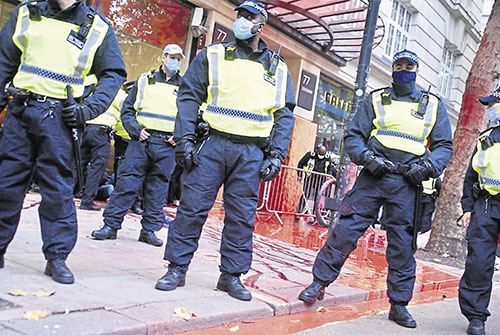 On 2 November, four Palestine Action activists were arrested at an Israeli-owned drone factory in Shenstone, Staffordshire, after several locked-on to the factory gates. According to Palestine Action (PA), two legal observers were also arrested, after being pepper-sprayed.
Two other factories owned by Israeli drone manufacturer Elbit Systems were spraypainted the same day: the Elbit Ferranti factory in Oldham, Greater Manchester, and the Elite KL factory in Tamworth, Staffordshire.
Palestine Action were marking the 103rd anniversary of the Balfour Declaration, when the British government gave its support to creation of 'a national home for the Jewish people' in Palestine.
Earlier, on 10 October, four PA activists were arrested after spraying red paint over the front doors of Elbit's London offices at 77 Kingsway. Their driver and a journalist were also arrested.
On 19 October, five PA activists appeared at Stafford crown court for their occupation of Elbit Systems in Shenstone in September. (See PN 2646 – 2647.)
The five pleaded not guilty to criminal damage to property over £5,000, aggravated trespass and an anti-trade union law about interfering with people's work.
That last charge carries a maximum six month prison sentence.
The trial is set for 17 May. Until then, bail conditions prevent the five from going near Elbit offices.
Palestine Action has also been spraypainting offices belonging to LaSalle Investment Management, the landlords of 77 Kingsway.