Welcome to Peace News, the newspaper for the UK grassroots peace and justice movement. We seek to oppose all forms of violence, and to create positive change based on cooperation and responsibility. See more
"Peace News has compiled an exemplary record... its tasks have never been more critically important than they are today." Noam Chomsky
Drawing Paradise on the 'Axis of Evil'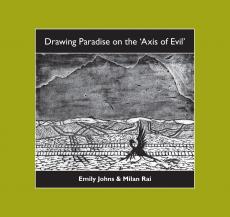 by Emily Johns and Milan Rai

(Justice Not Vengeance; 88 pp)
Drawing Paradise on the "Axis of Evil" is a timely work of 'pre-war art'. A war artist documents war, and comments on its impact. For Emily Johns, pre-war art is 'the equivalent process for a conflict that I hope may never take place.'

Emily Johns's images, informed by her participation in two peace delegations to Iran, exude a calm stillness and beauty, exploring the historical relationship between Britain, oil and Iran. Her lino etchings and sketches are followed by essays by Milan Rai on the hypocrisy and deceit involved in the nuclear
crisis, and the continuing significance of the coup of 1953, when the CIA toppled the democratically-elected government of Iran.

This revised and updated edition includes additional illustrations by Emily Johns, produced after a JNV peace delegation to Iran in February 2013.