Welcome to Peace News, the newspaper for the UK grassroots peace and justice movement. We seek to oppose all forms of violence, and to create positive change based on cooperation and responsibility. See more
"Peace News has compiled an exemplary record... its tasks have never been more critically important than they are today." Noam Chomsky
1917: The Nonviolent Russian Revolution book tour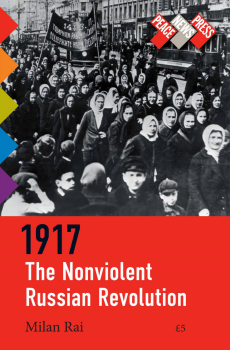 Peace News' latest book, 1917: The Nonviolent Revolution by Milan Rai dispels the widespread view that the Russian Revolution demonstrates the need for ruthlessness and armed violence in winning revolutionary change. In fact, it argues, 'Russia's revolutionaries often used their own unarmed vulnerability and the sincerity of their moral appeal as their most effective weapon in overturning governments and defeating would-be fascists.'
But, it doesn't let Lenin and the Bolsheviks off the hook either! Indeed, its second half, 1917: The Grassroots Working-Class Revolution that Lenin Crushed, shows how Lenin and Trotsky undermined the freedoms won by Russia's factory workers, revealing themselves to be enemies rather than champions of working-class democracy and power.

Milan Rai is now available to speak to groups across the UK about these twin themes and their relevance for today's activists. If you would like to host an event with Milan then please email promos@peacenews.info, suggesting some possible dates. (Hosting groups will be expected to cover travel costs by public transport, and to provide overnight accommodation where necessary.)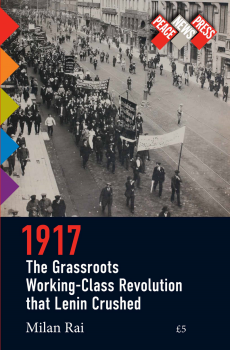 Upcoming talks:
Tuesday 20th February 2018: '1917: The Nonviolent Russian Revolution', 8pm, Northcourt Centre, Northcourt Road, Abingdon OX14 1NS. Organised by Abingdon Peace Group.

Saturday 10 March: Lunchtime talk at 'Can We Unite for Peace? Building Citizen Power for Change', Uniting for Peace Spring Conference, Wesley's Chapel, 49 City Road, London EC1Y 1AU.

Saturday 7 April: Talk at the Liverpool Anarchist Book Fair, Black-e, 1 Great George Street, Liverpool L1 5EW. Time tbc.
Past talks:

Tuesday 30 January 2018: 'The Nonviolent Russian Revolution', 6:30pm, Oxford Town Hall, St Aldate's, Oxford OX1 1BX. Organised by Oxford CND.