Issue

October - November 2016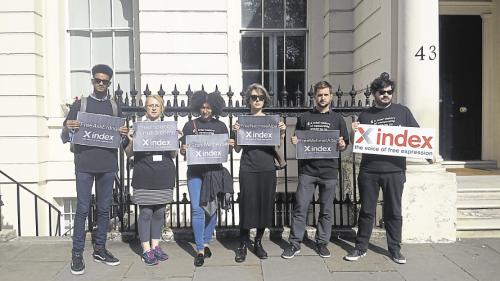 Vigil against Turkish repression outside Turkish embassy, London, 23 September. Photo: Index on Censorship
On 23 September, Index on Censorship and English PEN, another freedom of expression group, held a vigil outside the Turkish embassy in London in support of art teacher Ayse Çelik and others currently persecuted for speaking out in Turkey.
As we went to press, Çelik was awaiting a new trial date, accused of 'promoting terrorist organisation propaganda' after she called in to a popular television entertainment show to plead for more media coverage of abuse and killings of civilians in Diyarbakir, south-east Turkey.
Çelik said: 'Unborn children, mothers, people are being killed here. As a performer, as a human being you should not remain silent to what's happening. You should say stop.... It's a pity, don't let those people, those children die; don't let the mothers cry anymore. I can't even speak over the sounds of the bombs and bullets. People are struggling with starvation and thirst, babies and children too. Don't remain silent.'
Her statement was publicly co-signed by 31 people calling themselves the 'Peace Defenders': they are being tried alongside her on the same charge. They all face more than seven years in prison if found guilty.
The vigil was part of a global campaign launched by the Initiative for Freedom of Expression – Turkey.