Welcome to Peace News, the newspaper for the UK grassroots peace and justice movement. We seek to oppose all forms of violence, and to create positive change based on cooperation and responsibility. See more
"Peace News has compiled an exemplary record... its tasks have never been more critically important than they are today." Noam Chomsky
Peace News at 80 picnic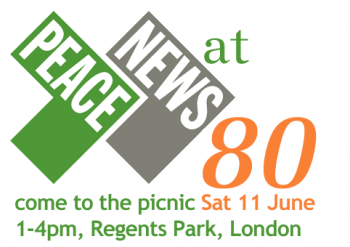 Bring food, instruments and stories to share to the Peace News 80th birthday picnic!
It was on 6 June 1936 that the first 5,000 copies of PN were distributed for free by the Peace News Group (previously the Wood Green Study Group).
Exact location: by the Triton Fountain, at the north end of the Inner Circle. See map
Wet weather plan: The Regent's cafe in the Inner Circle.
See the Facebook event