Welcome to Peace News, the newspaper for the UK grassroots peace and justice movement. We seek to oppose all forms of violence, and to create positive change based on cooperation and responsibility. See more
"Peace News has compiled an exemplary record... its tasks have never been more critically important than they are today." Noam Chomsky
Skilling Up trainings April 2016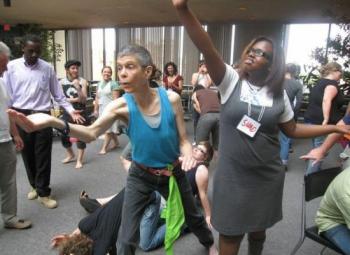 In April 2016, one of the world's leading activist training groups, Training for Change, will be visiting London and offering a 10-day programme made of two powerful workshops for trainers and facilitators. For over 20 years, Training for Change has provided activist training for groups across the world who are standing up for social, economic, and environmental justice through strategic nonviolence. TfC has led hundreds of workshops and trained thousands of people – from striking steelworkers to interfaith coalitions for immigrant rights – in the skills they need to effectively create change.
TfC calls its approach 'direct education': 'Direct action means actions that directly confront and challenge the current system of injustice; direct education means education that directly confronts and challenges the current system of injustice – which includes how people are taught.' TfC believes in a group-centered approach, where trainers see themselves as empowering people to discover their own expertise and that of each other. Direct education includes: holding difference/diversity as a theme throughout training, not just as a content area; and inviting risk. You may not always be comfortable during the workshops, since we are learning new skills and approaches to vital issues, but we build up group support to take risks and to learn from them.
The three-day 'Training for Social Action Trainers' is an intensive training designed for experienced facilitators wanting to revitalise their work; for new trainers wanting to inspire; for teachers, community leaders and activists – for anyone wanting to take their skills to a new level and learn how training can be used more effectively. As a participant, you will gain greater awareness about yourself and your strengths as a facilitator; get a chance to take risks, experiment and refine skills in a safe and supportive environment; learn new tools that are easily adapted, principles of workshop design, skills for working with diversity and a better understanding of how to use experiential education methods effectively.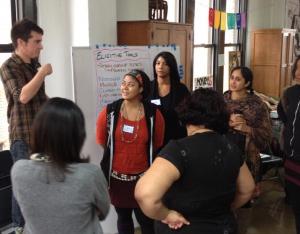 The six-day 'Advanced Training of Trainers' involves tackling some of training's biggest challenges – including doing cross-cultural work, handling conflict and strong emotions, and modifying workshop designs on the fly (which TfC calls 'emergent design'). This training is only open to people who have already taken the Training for Social Action Trainers workshop, whether on 15-17 April or previously. As a participant, you will receive in-depth, personal coaching on your goals; prepare for cross-cultural work, including international training; use more practice time to experiment with new approaches in a supportive setting.
These are intensive learning environments, including morning, afternoon and a number of evening sessions. We ask that you attend all sessions, as each one builds on the ones before. There will be many breaks, and opportunities for self care.
Workshops
Training for Social Action Trainers: 15-17 April.
Advanced Training of Trainers: 19-24 April 2016.
Venue: Central London
Fees for taking both workshops –
Organisations: £2,000.
Individuals and small groups: £250 - £750.
If your income is - You pay
under £11,000 - £250
£11,001–£15,500 - £280
£15,501–£21,000 - £330
£21,001–£28,000 - £400
£28,001–£37,000 - £490
£37,001–£49,000 - £600
Over £49,000 - £750
For TSAT only –
Organisations: £900.
Individuals: £125 - £250.
No refunds after 15 March.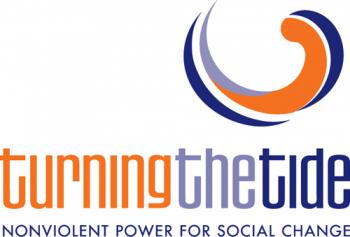 Some scholarships are available.
There are a limited number of places in these trainings for organisations – they will be awarded on a first-come, first-served basis. People who are employed by a trade union, a campaigning organisation or a public body must apply through their organisation and pay the organisational rate. If an organisation is going to pay for your place, please fill in this form.
To apply as an individual or small group, please complete this form by 15 February 2016.
This training has been made possible by the co-operation of three British organisations: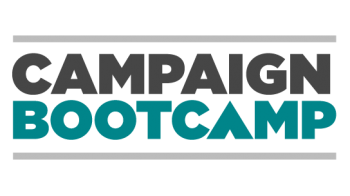 Peace News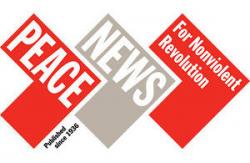 If you have any queries, please contact skillingup@peacenews.info